Electric Vehicles • Inefficient and Dangerous Due To Lithium Battery Fires + Explosions
Dylan Eleven • Truth11.com
Electric vehicles have been sold as the dream of the future, but are proving to be a nightmare failure that should require a total recall.   It seems in fact they are designed to bring an end to the auto industry and the freedom to travel.  
Apart from the inefficiency of waiting at charging stations to keep your journey going, it is also potentially dangerous to be around these vehicles while charging.  
Just like electric scooters have been catching fire and exploding while charging,  so have electric vehicles.  
Electric vehicles can explode on the side of the highway while not charging, and keep exploding.
The batteries can catch fire and explode if they get wet in a flood.   As was brought to our attention by fire fighters in recent US floods.
Fire fighters have also stated when these vechicles do catch fire, they are extremely difficult to put out, and require huge amounts of water.
The technology is flawed and the only reason they are being promoted is to bring an end to freedom of movement.
Below is another example of an electric vehicle catching fire while charging.
---
Ford F-150 Lightning Engulfed In Flames That Prompted Recall

ZeroHedge News  |  Tyler Durden
New video footage of a fire involving a Ford F-150 Lightning, which occurred in one of the company's holding lots in Detroit in February and led to an immediate recall and production halt for almost a month, has been obtained by CNBC via a Michigan's Freedom of Information Act from the Dearborn Police Department.
More than two hours of video, including 17 police bodycams and vehicle dashcams, between the hours of 3:36 p.m. and 4:22 p.m. ET on Feb. 4 show first responders arriving at a fire at Ford's Rouge Electric Vehicle Center in Dearborn.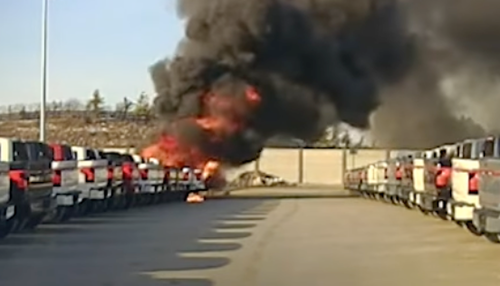 Heavy black smoke billowed out of an end-of-row Ford F-150 Lightning awaiting shipment in the holding lot. Other vehicles around the truck were engulfed in flames.
Police officers responding to the electric vehicle fire were cautious about the lithium battery fire and could be heard on video saying this type of vehicle could "blow up."
"We're not putting this f---er out. Look at it," said one officer.
Multiple first responders were concerned about the amount of water needed to extinguish the battery fire.
"They have to put like a whole f---ing lake on it to put them out," the same officer continued.
The fire occurred while the F-150 Lightning was charging in the holding lot and was caused by an "internal short circuit due to a manufacturing issue when cells in the battery were at a high state of charge," according to CNBC, citing documents associated with the recall. Immediately after the fire, Ford issued a recall on a number of F-150 Lightnings and issued a production halt for nearly a month.
Watch: Ford F-150 Lightning Fire
There is an increasing number of lithium battery fires as the Biden administration seeks to decarbonize the economy via EVs.
A separate report found a startling rise in e-bike lithium fires across the country in the last several years.
What's concerning is that America's fire departments aren't trained to fight battery fires nor have the proper tools.
Climate alarmists pushing for the electrification of everything to combat global warming must be transparent about the risks associated with lithium batteries.
---

Original Article: https://www.zerohedge.com/markets/new-video-shows-ford-f-150-lightning-engulfed-flames-prompted-recall
---
GM Kills Chevy Bolt, Paving Path for Electric Pickups

ZeroHedge News | Tyler Durden
General Motors Chair and CEO Mary Barra announced that production of the Chevrolet Bolt EV and Bolt EUV would be halted by the end of 2023. This aligns with the GM's plan to transition the Bolt production line in Orion, Michigan, into manufacturing electric trucks.
During a Tuesday morning earnings call with investors, Barra confirmed the seven-year run of the Bolt would come to an end and be retooled for electric truck production:
"We've progressed so far that it's now time to plan the end of Chevrolet Bolt EV and EUV production, which will happen at the end of the year."
GM's decision to kill Bolt production comes after a series of battery fires over the last few years and at least one major recall (read: "After Multiple Recalls, GM May Be On The Verge Of Ending Production Of Its Chevy Bolt").
Barra acknowledged the loyalty of Bolt owners but noted that some customers were furious by the EV's defects, which led to battery fires. GM had to recall 142,000 vehicles as a result. Some Bolt customers faced delays in receiving new batteries, while others could not drive their vehicles due to the fire risk. This manufacturing mishap hindered GM's progress in the EV market.
In 2023, GM has three new EV models for mass-market across the Chevrolet brand, including the Silverado truck, Blazer, and Equinox. The new models might rekindle GM's EV growth strategy after the Bolt fizzle.
---
Original Article: https://www.zerohedge.com/markets/gm-kills-chevy-bolt-paving-path-electric-pickups