The Vaccine Genocide Continues • Musicians, Singers + Pro Soccer Players Dying Suddenly
Global Research | Dr. William Makis
Musicians and Singers Dying Suddenly in May and June 2023. The Trend Is Accelerating.
On April 24, 2023, I wrote a substack about musicians getting vaccine injured or dying suddenly (click here).
This may be subjective, but it appears to me that the trend of singers and musicians dying suddenly is accelerating. More and more are dying suddenly.
Many musicians and singers were forced into COVID-19 vaccines in three ways:
record companies had COVID-19 vaccine mandates
concert venues required COVID-19 vaccination to be able to participate
international travel required at least 2 if not 3 COVID-19 vaccines
I can't think of many musicians who were vocally opposed to COVID-19 vaccines or vaccine mandates, but there were a few memorable ones like Nicki Minaj and others who are listed here (click here).
Today, news broke that 64 year old Madonna was found unresponsive and was rushed to the hospital. She has claimed in the past to be at least double vaccinated with Moderna COVID-19 mRNA vaccine (click here).
She apparently had a "serious bacterial infection" that landed her in the ICU for several days, intubated and septic. I don't have any information beyond that.
Up to now, Jamie Foxx has probably been the most famous entertainer who has had a very serious COVID-19 vaccine reaction, a stroke that has apparently left him partially blind and paralyzed, and which nearly killed him.
Jamie Foxx is also a musician. The tragic nature of his injuries has opened many people's eyes to what the COVID-19 vaccines are doing to people.
---
Two musicians died recently while performing on stage.
In this video, 45 year old rapper "Big Pokey", real name Milton Powell, died during a June 17, 2023 performance in Beaumont, Texas.
On May 26, 2023, 59 year old singer, songwriter and guitarist Juan Carlos Formell died after suffering a heart attack onstage during his NYC show (you can see him collapse in the video below).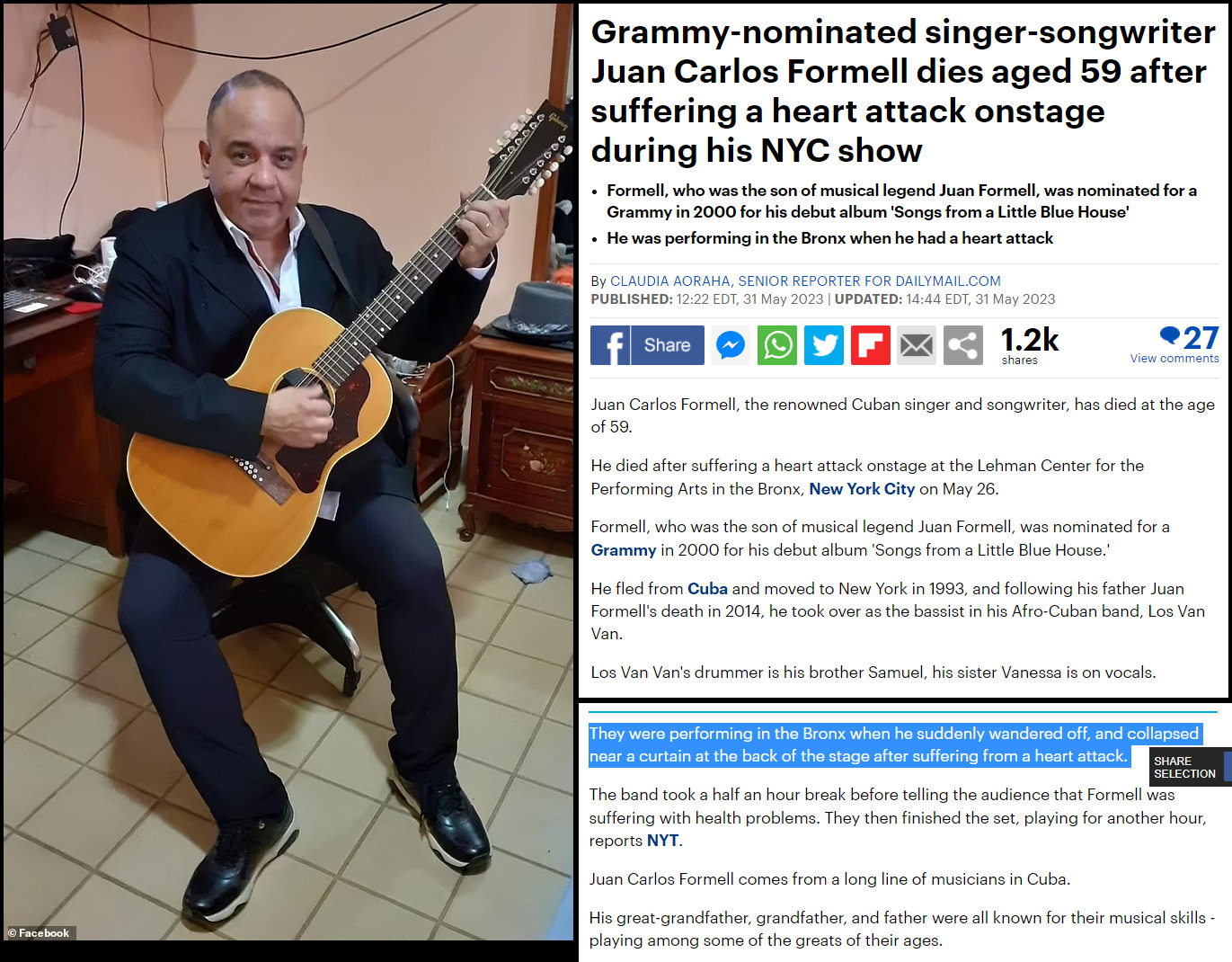 On March 11, 2023, 27 year old Greek & South African rapper Costa Titch (Constantinos Tsobanoglou) collapsed at the Ultra Music Festival at Nasrec Expo Centre in Johannesburg. He died later in the hospital.
Other Musician deaths in May and June 2023: June 23, 2023 – 58 year old Lee Rauch, the drummer for the band Megadeth, died suddenly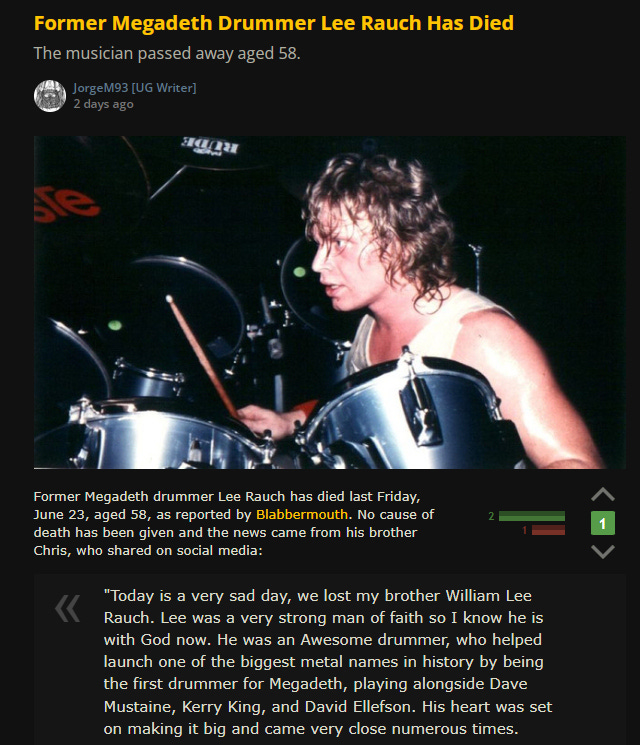 June 19, 2023 – Australia – 26 yo Ryan Siew, guitarist for metalcore band Polaris died unexpectedly on June 19, 2023 He had been struggling with brain fog and fatigue.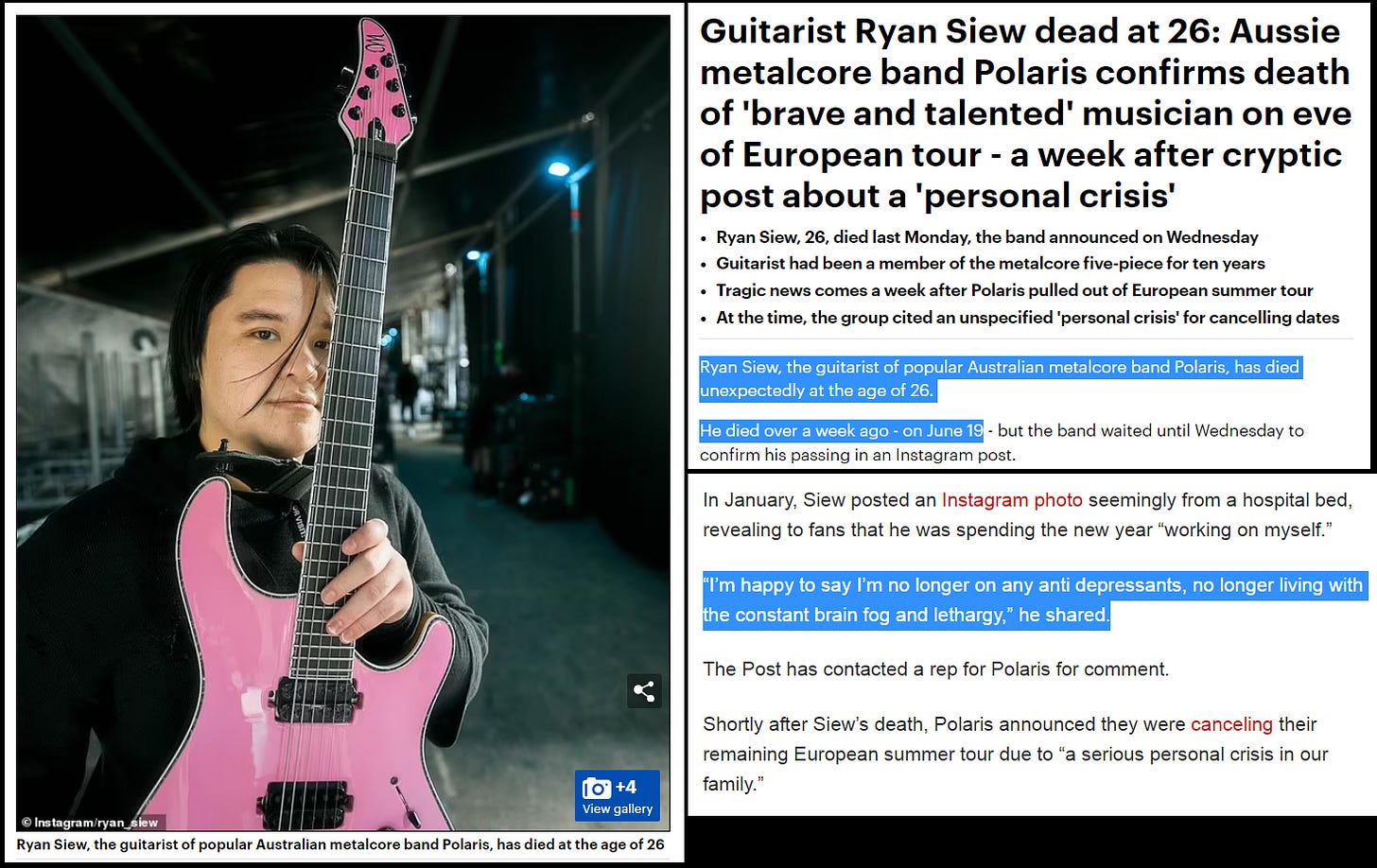 June 12, 2023 – Brazil – Country singer Gilmar Silva Pereira died suddenly from a heart attack. He had performed a show at a friend's birthday, felt unwell afterwards and was rushed to the hospital where he died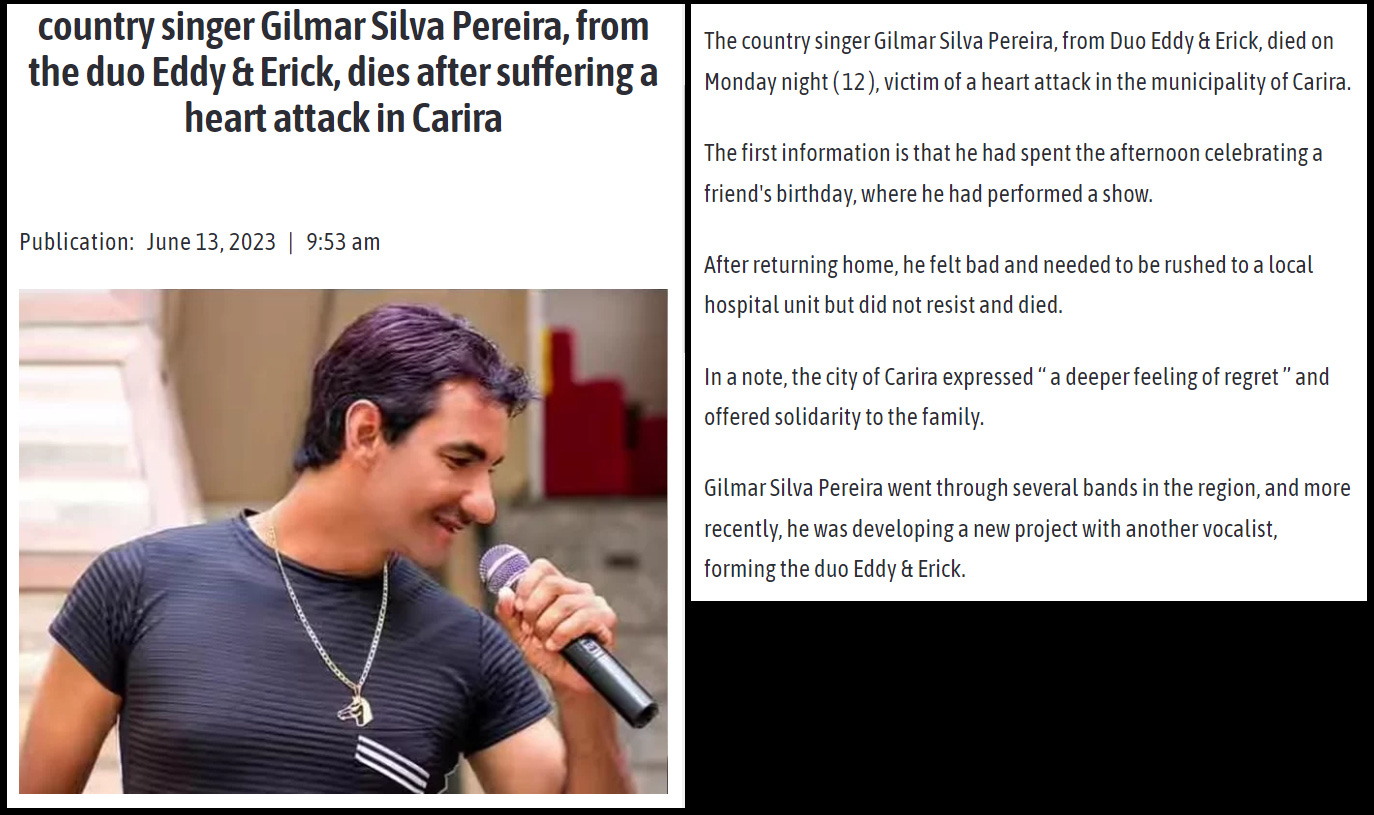 June 11, 2023 – New York – Dan Lardner, the singer and guitarist for New York indie rock band QTY, died suddenly.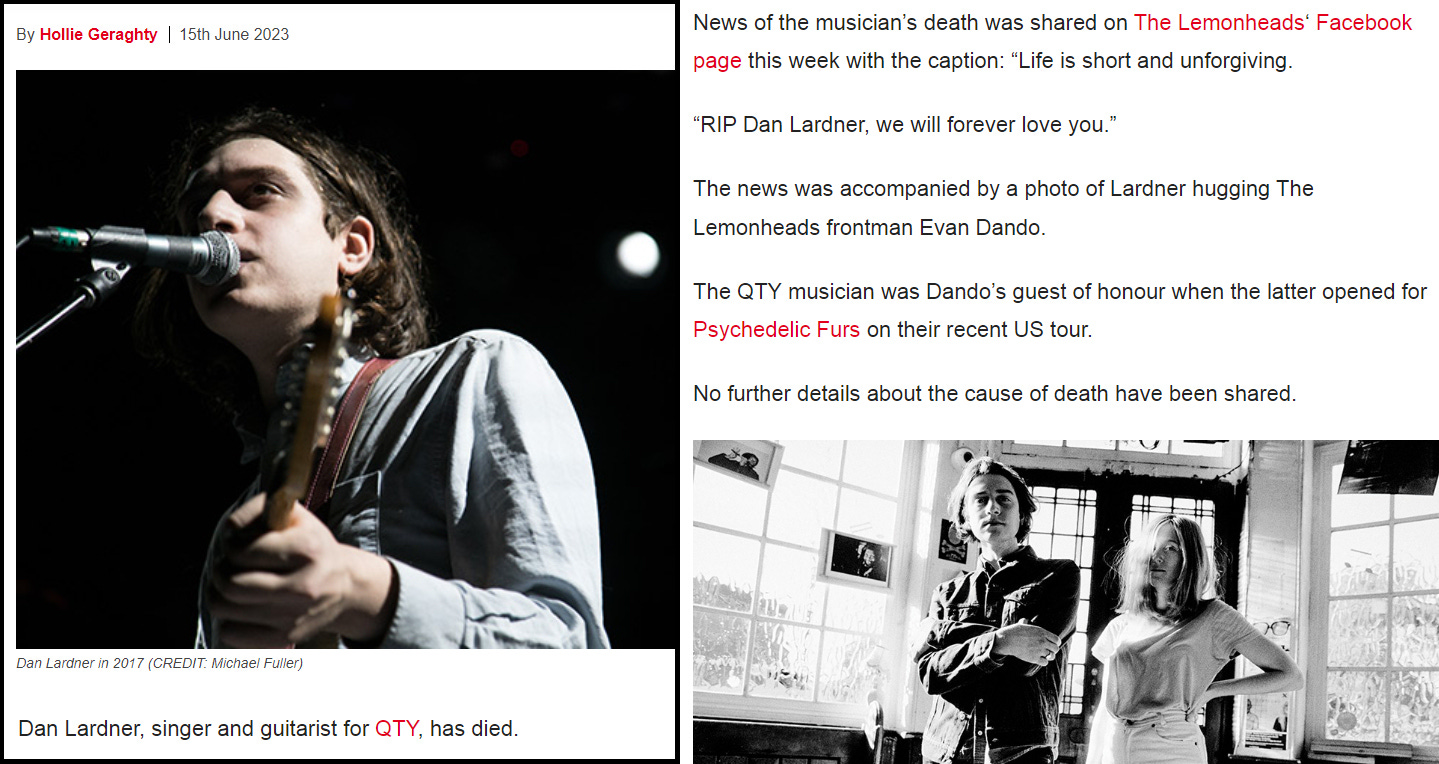 June 11, 2023 – Brazil – 41 year old musician Adriano Lima died suddenly after being hospitalized with a stroke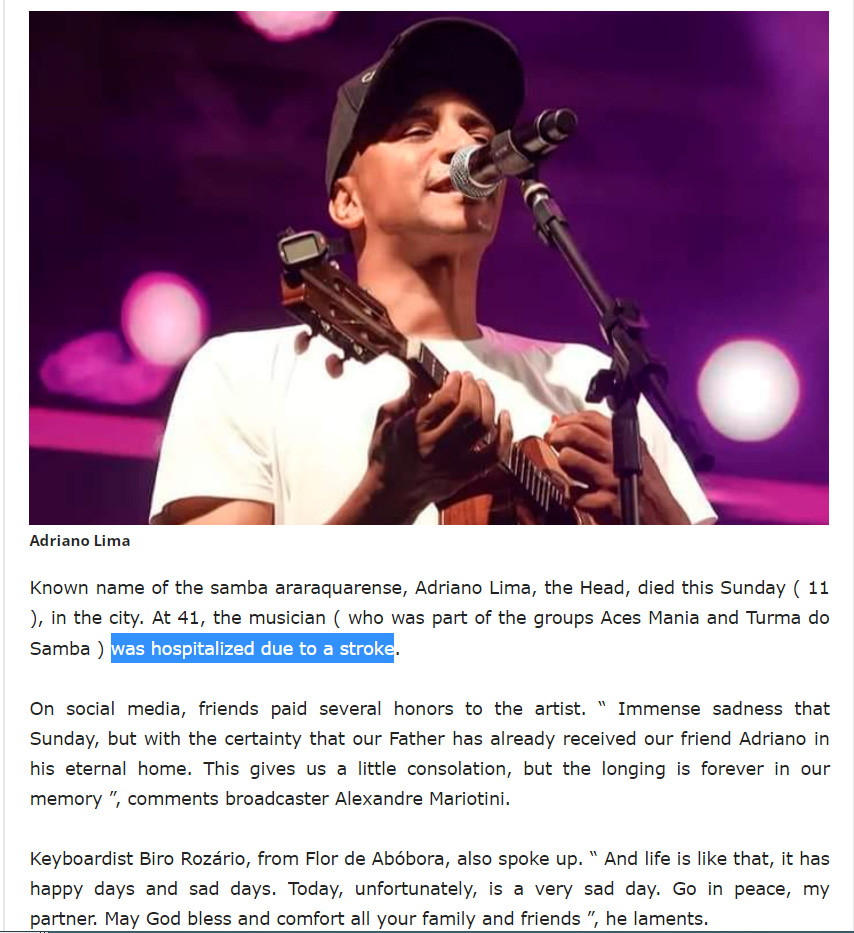 June 8, 2023 – Arlington, MA – Justine Covault, a renowned singer, songwriter, guitarist, and record label owner from Boston, died suddenly and unexpectedly on June 8, 2023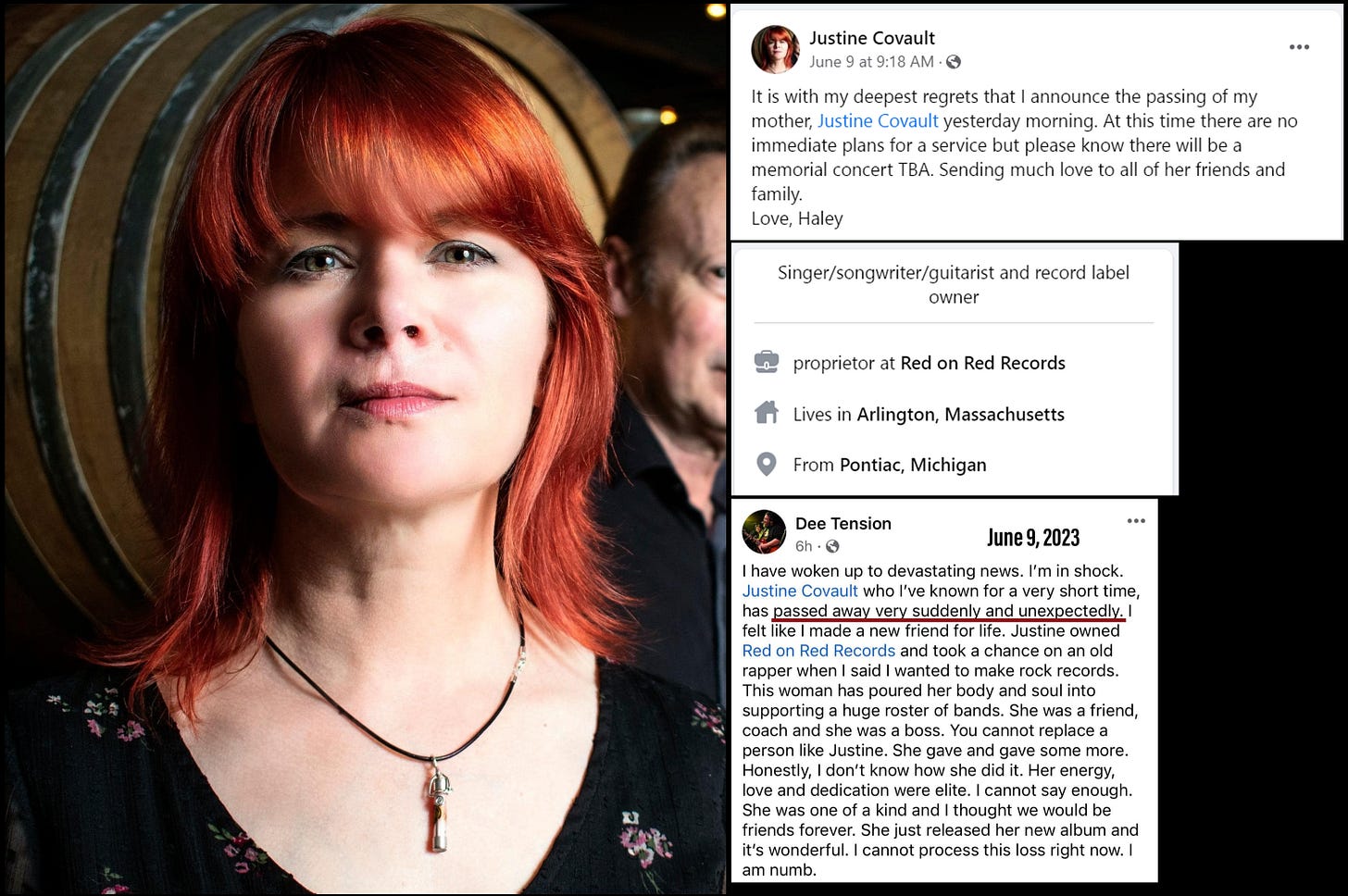 June 5, 2023 – Cairo, Egypt – 39 year old Egyptian pop composer Mohamed Al-Nadi died suddenly on June 5, 2023 after a "sudden health crisis"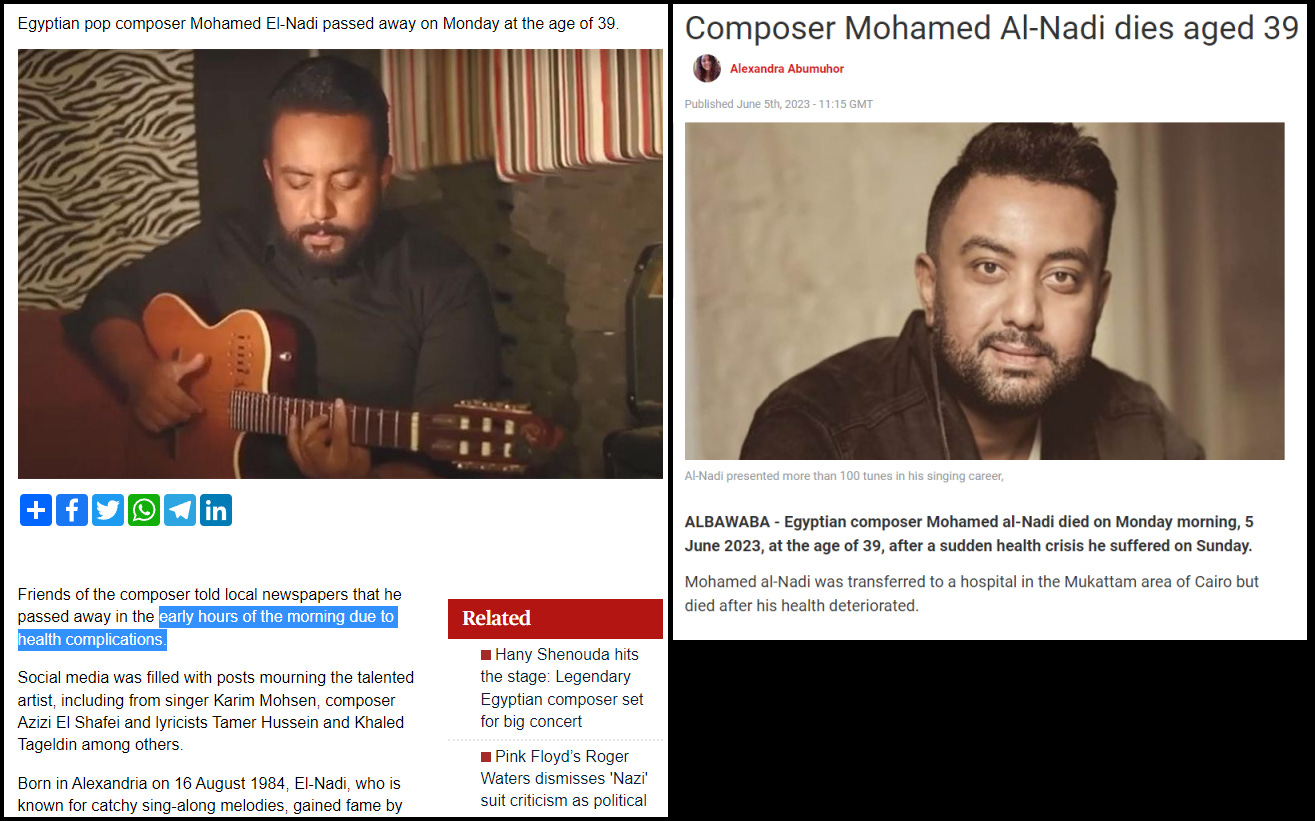 June 2, 2023 – Villar Perosa, Italy – 47 year old musician and guitar player Diego Di Chiara died suddenly on June 2, 2023 He was "struck with an illness on his way home while carrying a shopping bag"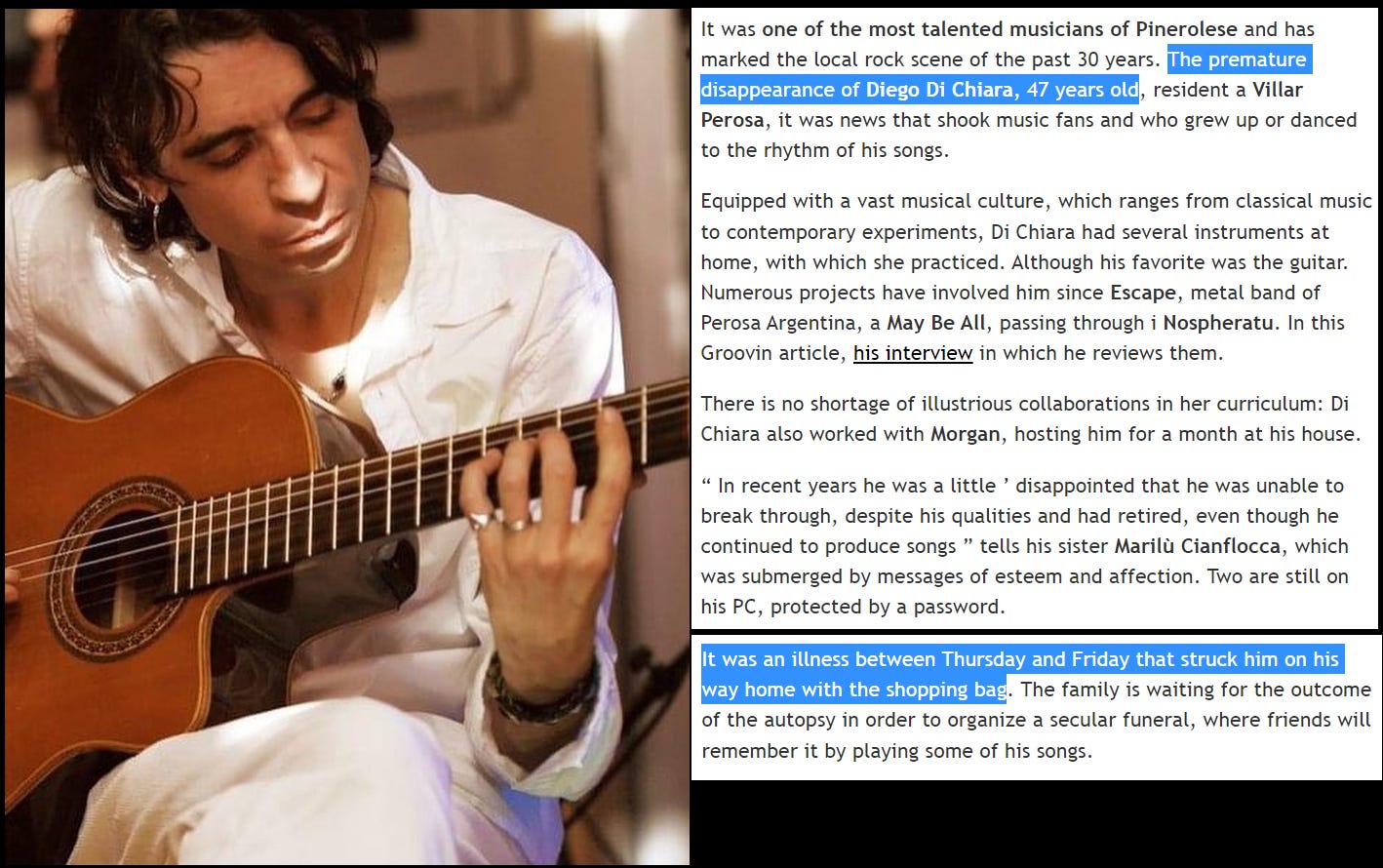 May 26, 2023 – Montgomery, IL – 29 yo musician and optometrist Arturo Montano Jr died suddenly on May 26, 2023.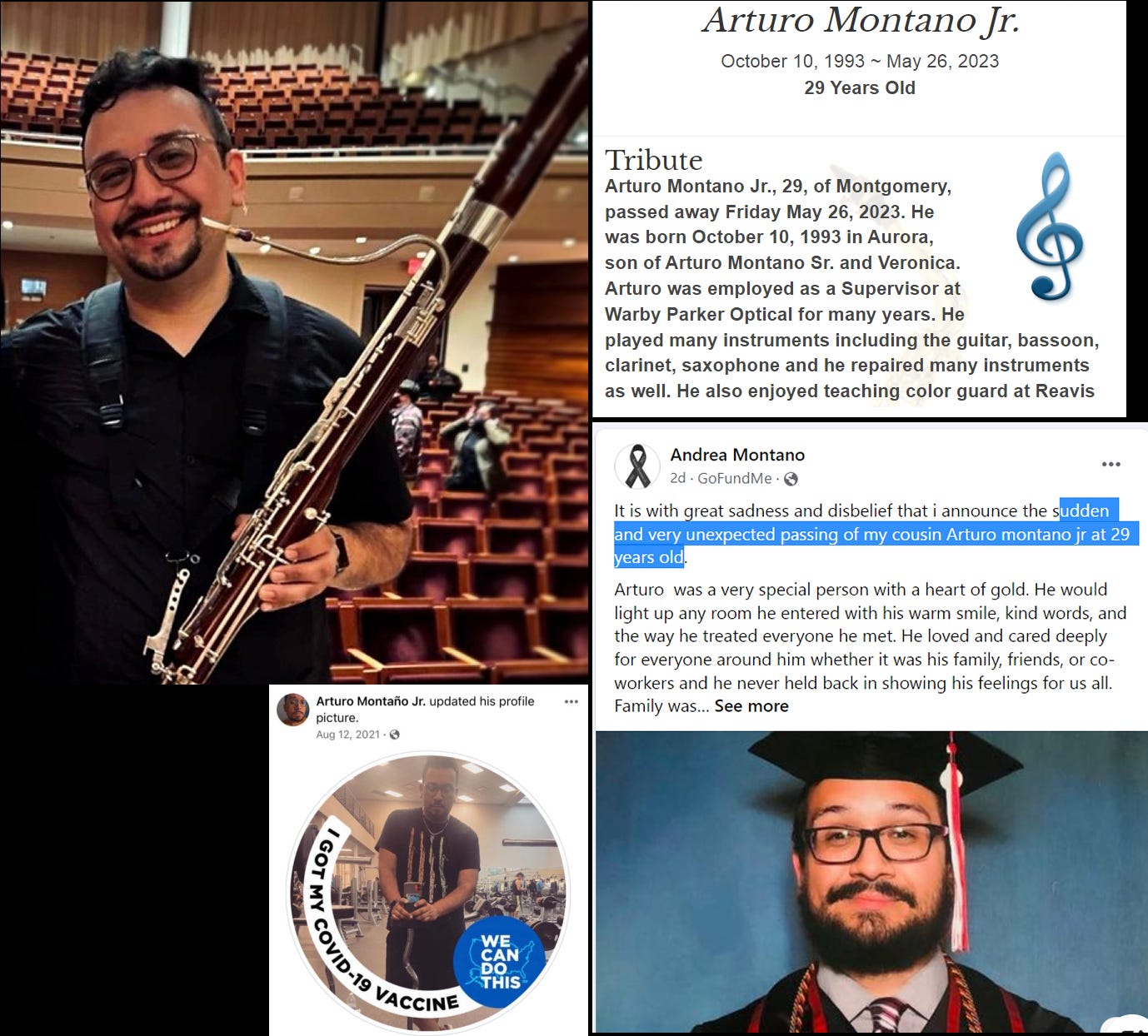 May 8, 2023 – Calgary, AB – 47 year old Stacie Roper, singer & songwriter and lead singer of the group "Hey Romeo", died suddenly on May 8, 2023. She was COVID-19 vaccinated.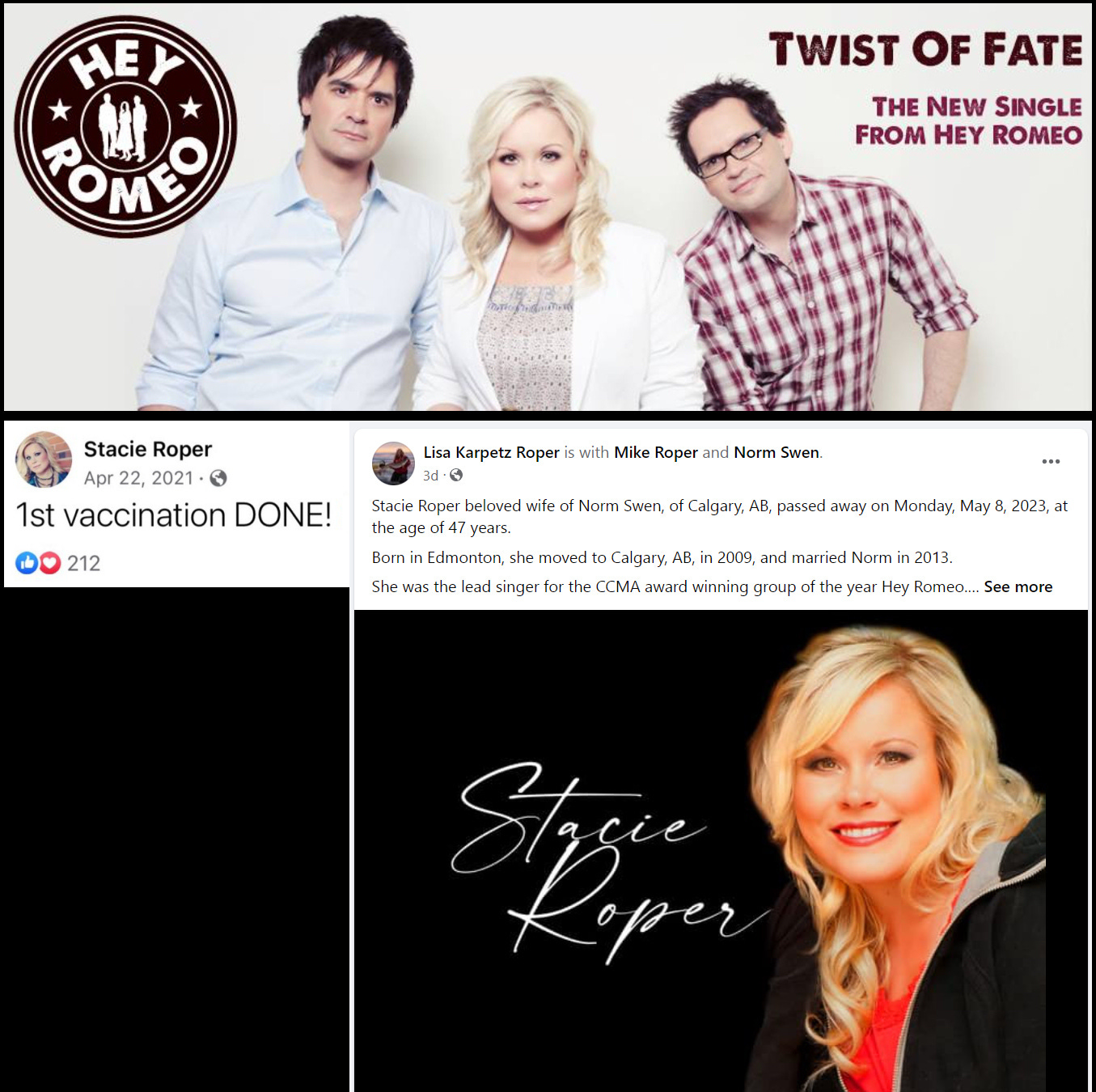 ---
14 Professional Soccer Players Died Suddenly in the Past Six Months. Five Dead in the Month of June 2023
14 professional soccer players dead within last 6 months, age range 15 to 58.
Causes of death:
5 cardiac arrests and sudden deaths while playing a game
1 cardiac arrest while sitting on a terrace
1 cardiac arrest while at work
3 heart attacks
2 unknown causes
2 turbo cancers (skin, pancreas)
Just like with NFL players I wrote about yesterday, maybe not all of these deaths will be COVID-19 vaccine related but probably most of them will be.
This is the same pattern of "causes of deaths" we see with other COVID-19 vaccinated athletes. Fascinatingly, 5 deaths occurred while playing a game.
COVID-19 mRNA vaccine booster uptake is almost down to zero, yet the sudden deaths of athletes continue at a rapid pace.
We may now be used to the sudden deaths of soccer players, having watched them collapse on a regular basis since the rollout of COVID-19 mRNA vaccines, however, they are still dying at what appears to be an increasing frequency.
---
June 24, 2023 (Belgium) – 45 yo Cedric Roussel, former Premier League & Belgium soccer player died suddenly on June 24, 2023, "Roussel went into cardiac arrest while sitting on a terrace. Attempts were made by emergency services to revive him, but sadly to no avail".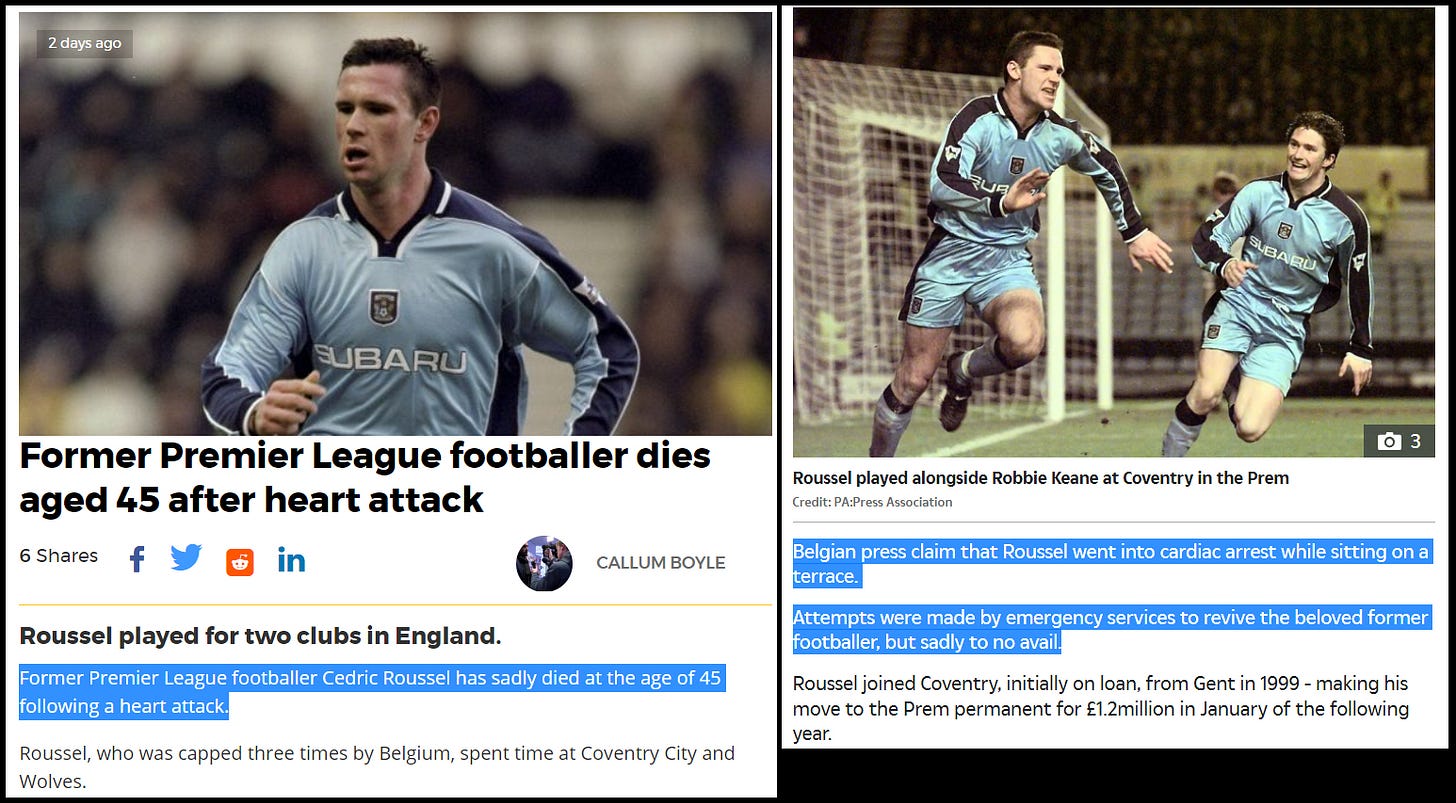 June 22, 2023 – Belgium – 57 year old Stephane Demol, former World Cup soccer star and Belgian all-star player died suddenly of a heart attack on June 22, 2023.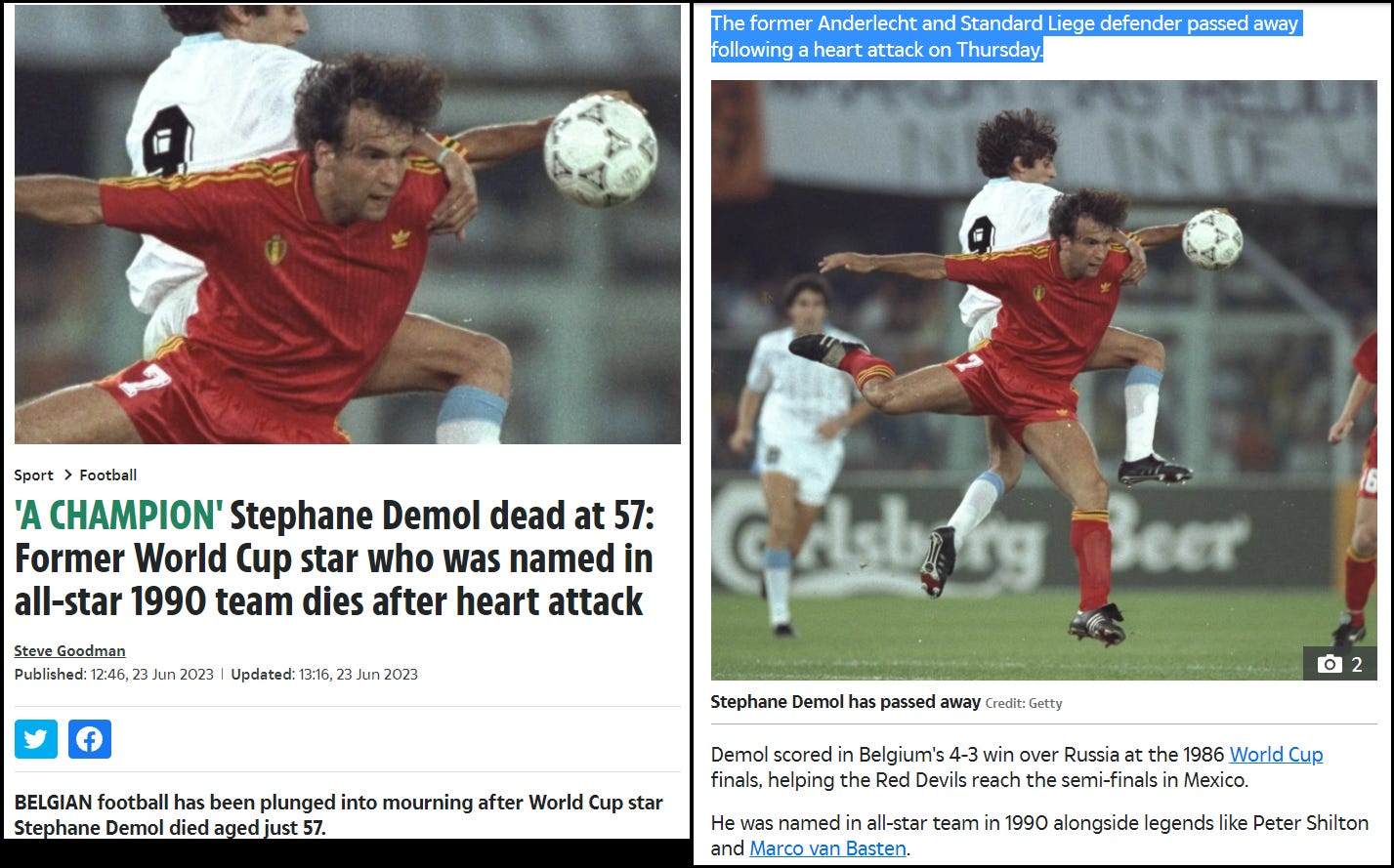 June 19, 2023 – 32 year old Lithuanian professional soccer player and star Karolis Chvedukas died suddenly on June 19, 2023. "Lithuanian Football Association released a statement on his passing, saying he 'unexpectedly died'".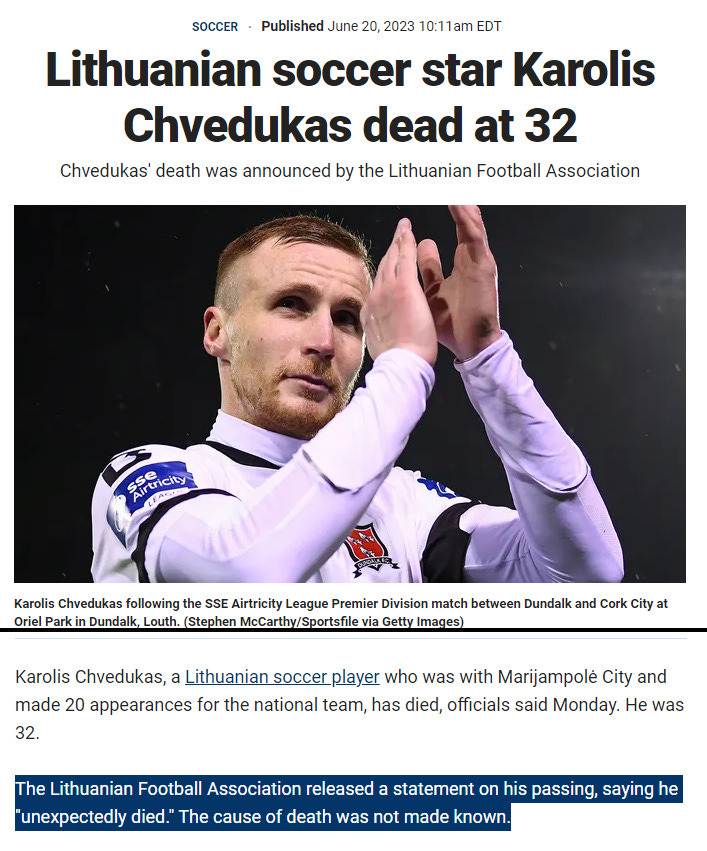 June 16, 2023 (Scotland) – 34 year old Scots youth soccer coach Tony Spencer died suddenly on June 16, 2023.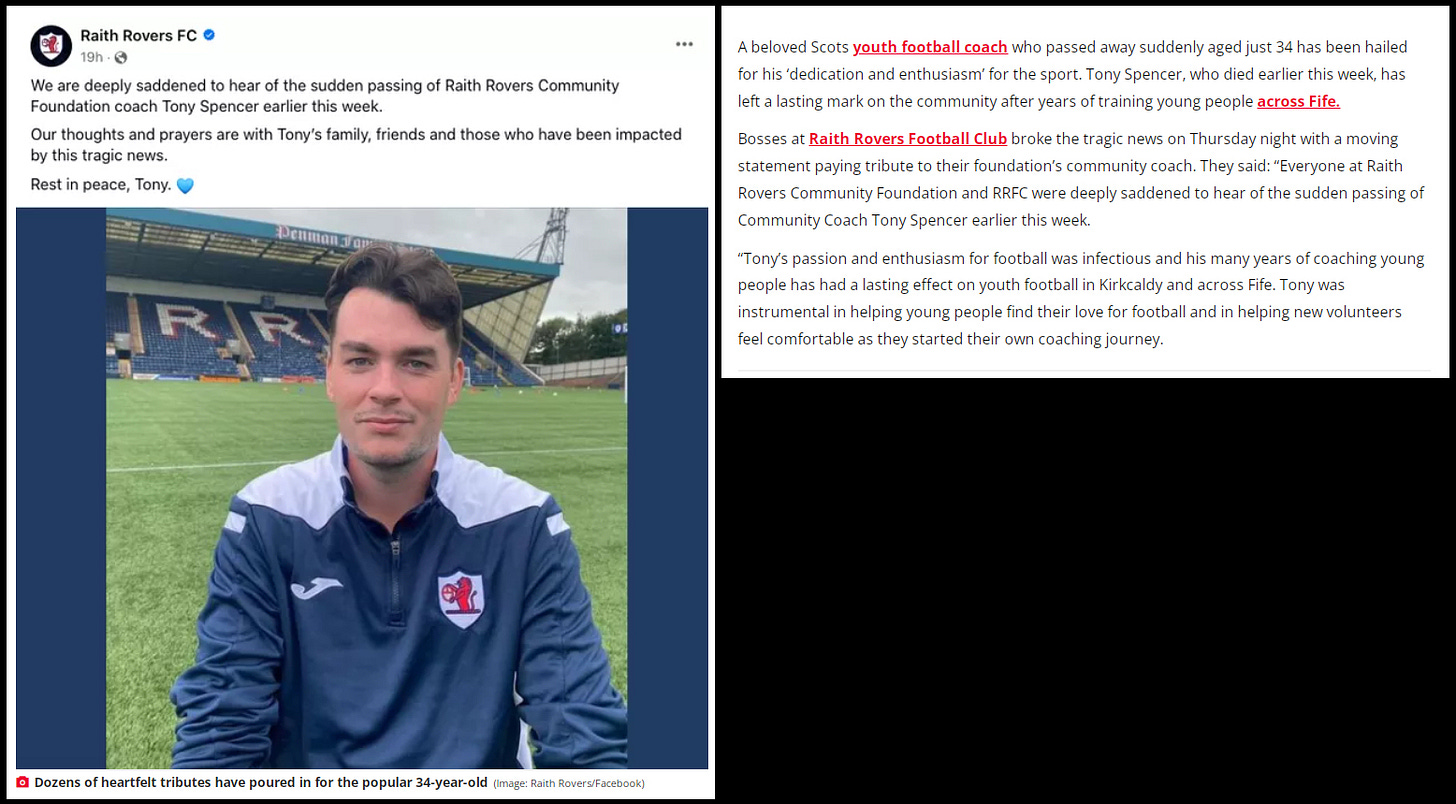 June 6, 2023 (Latvia) – 38 year old Latvian professional soccer player and star Gints Freimanis died on June 6, 2023. He was diagnosed with skin cancer in Oct. 2021. In Jan doctors informed him the cancer had spread to his brain.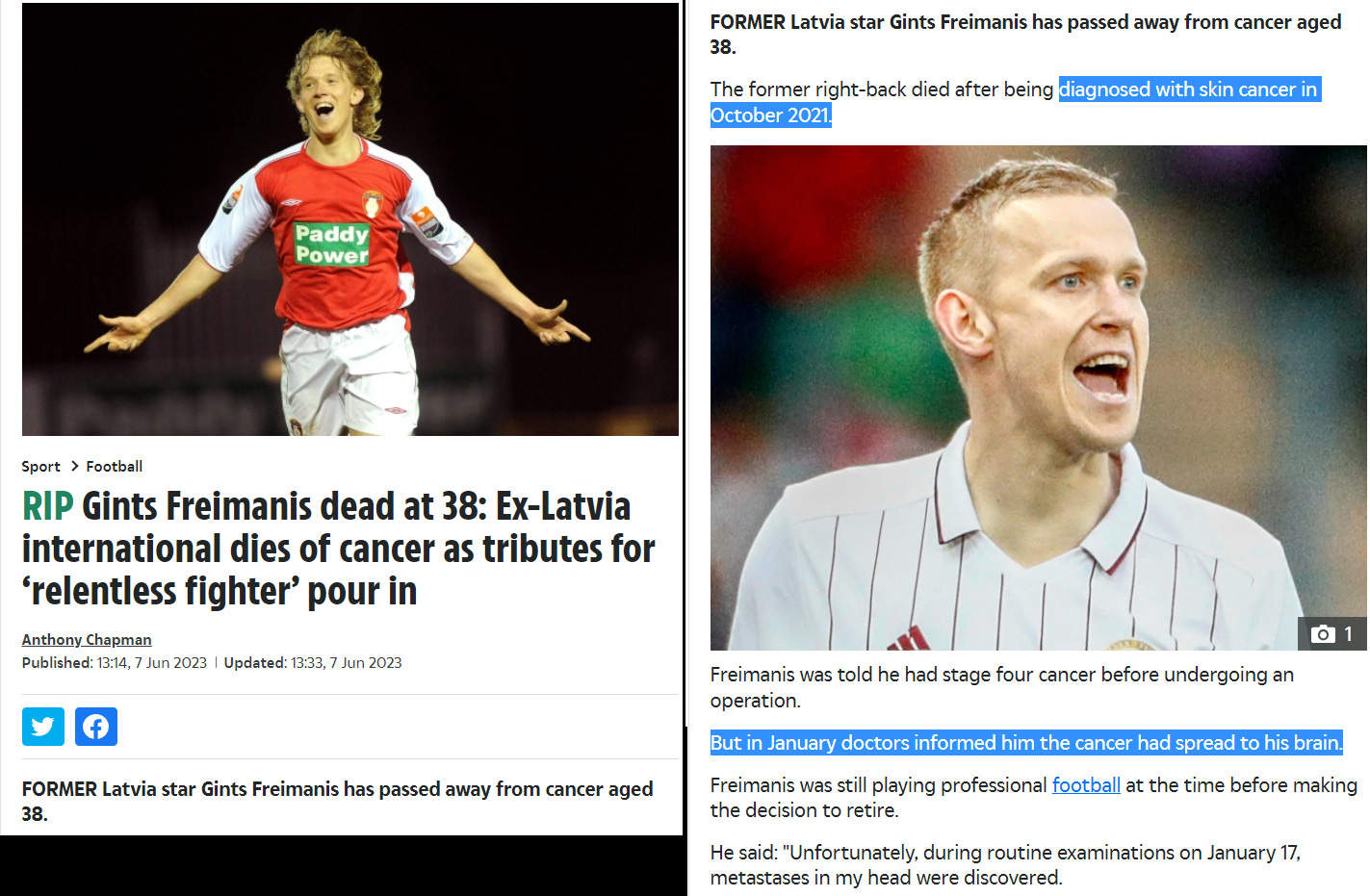 May 24, 2023 (UK) – Wolverhampton, UK – 15 yo soccer player Myles Christie died suddenly from a cardiac arrest on May 24, 2023.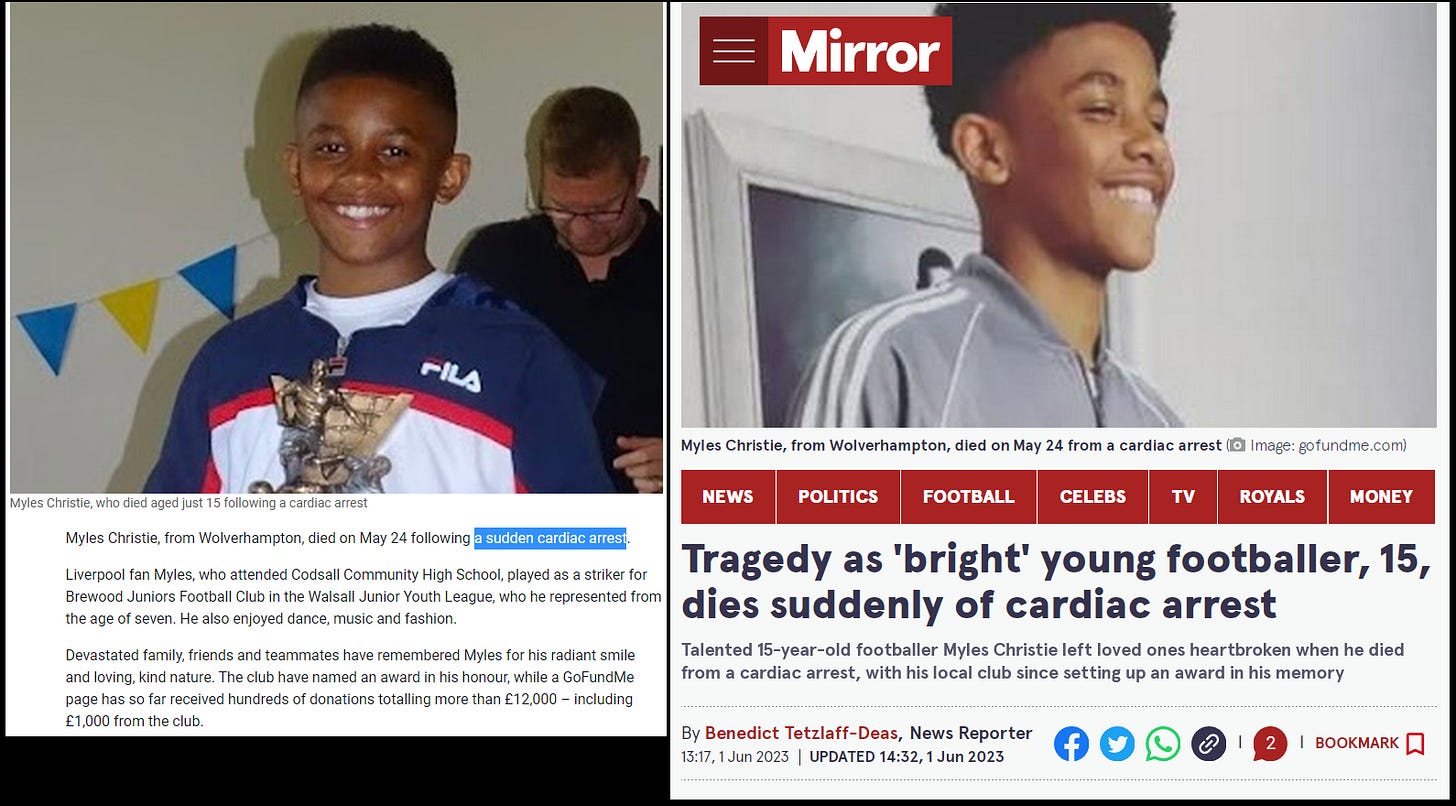 May 23, 2023 (Spain) – Morrazo, Spain – 36 year old former professional soccer player and triathlete Juan Beascoechea collapsed and died suddenly while at work on May 23, 2023 "In recent years he had discovered his passion for triathlon".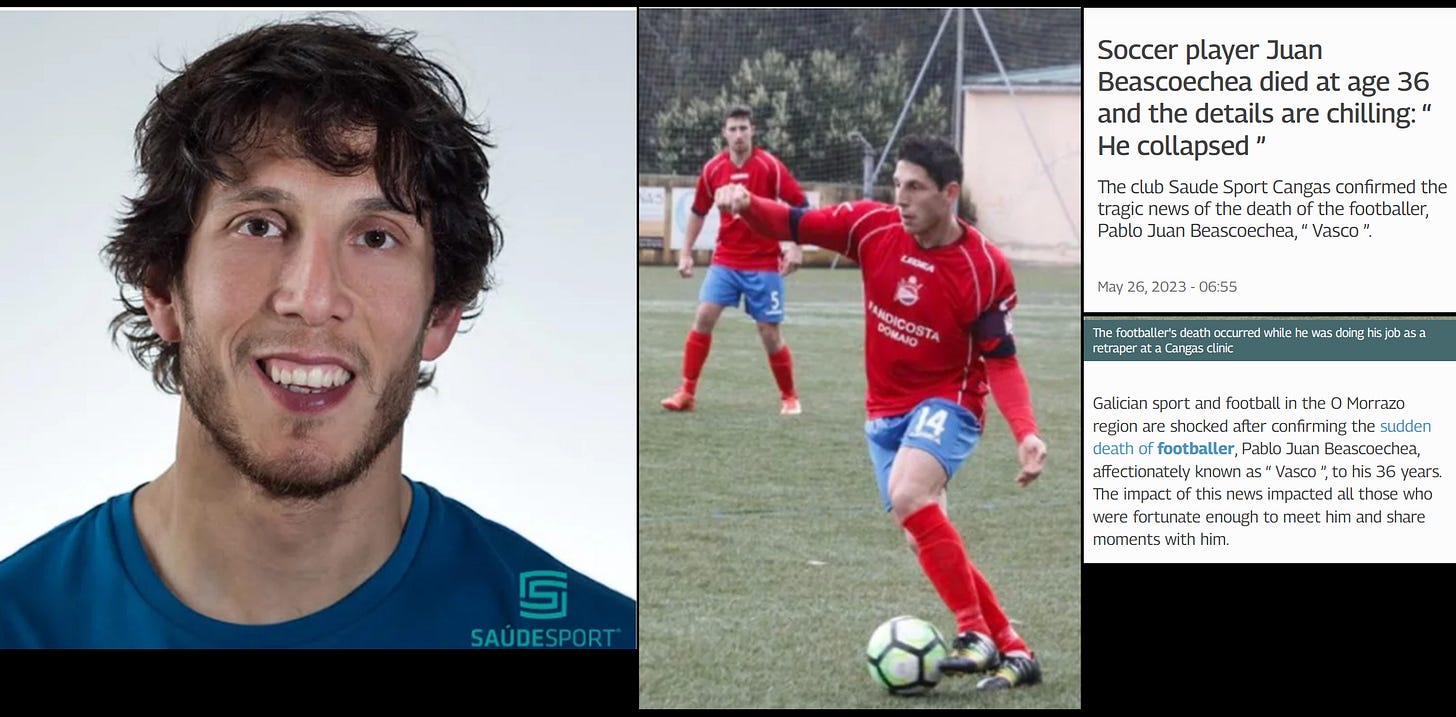 May 3, 2023 (France) – French Goalkeeper Mathieu Villain, age 38, died suddenly on May 3, 2023 following a heart attack. He was a former goalkeeper of Chauny, Laon, Prémontré, Tergnier & Arsenal Club.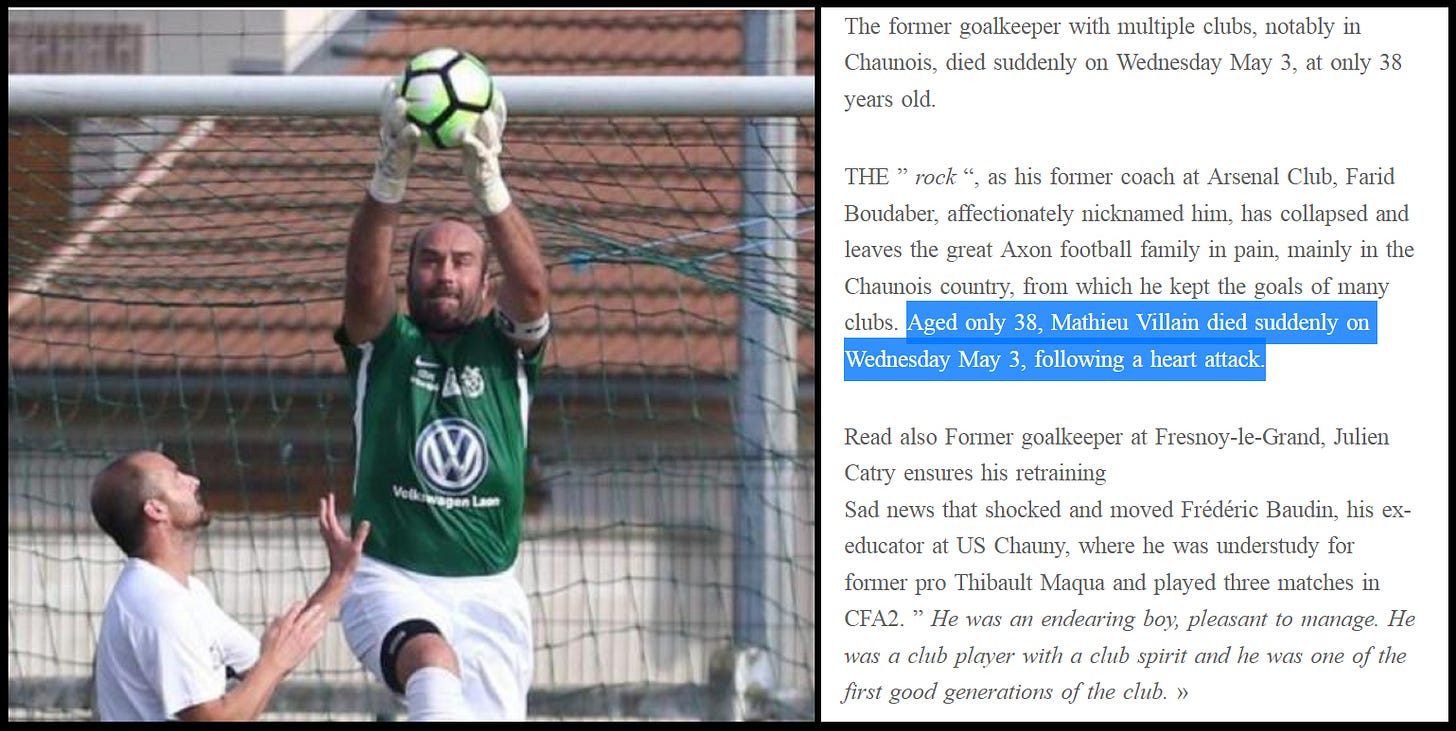 April 24, 2023 – 23 year old Iranian professional soccer player Amir Hossein Shirchi died after collapsing during a game and suffering cardiac arrest (click here).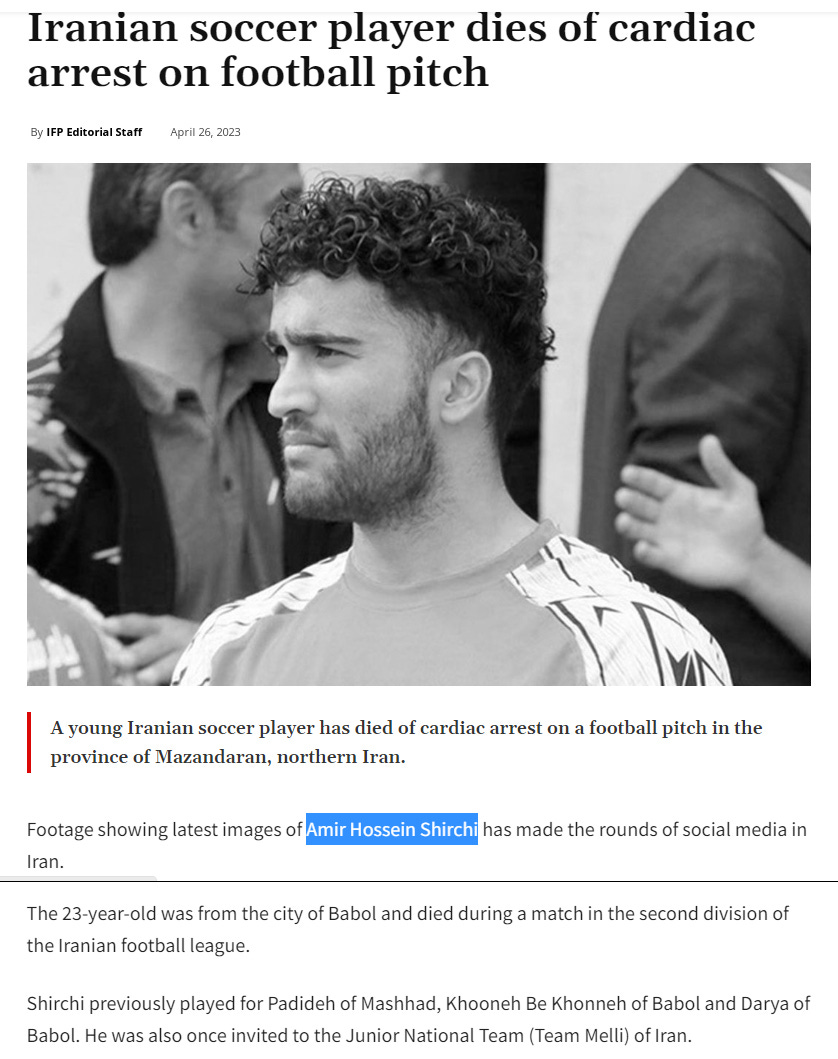 April 10, 2023 – Macon, GA – 21 year old Baba Agbaje, member of Mercer University men's soccer team, collapsed during a game, suffered a cardiac arrest and died. (click here)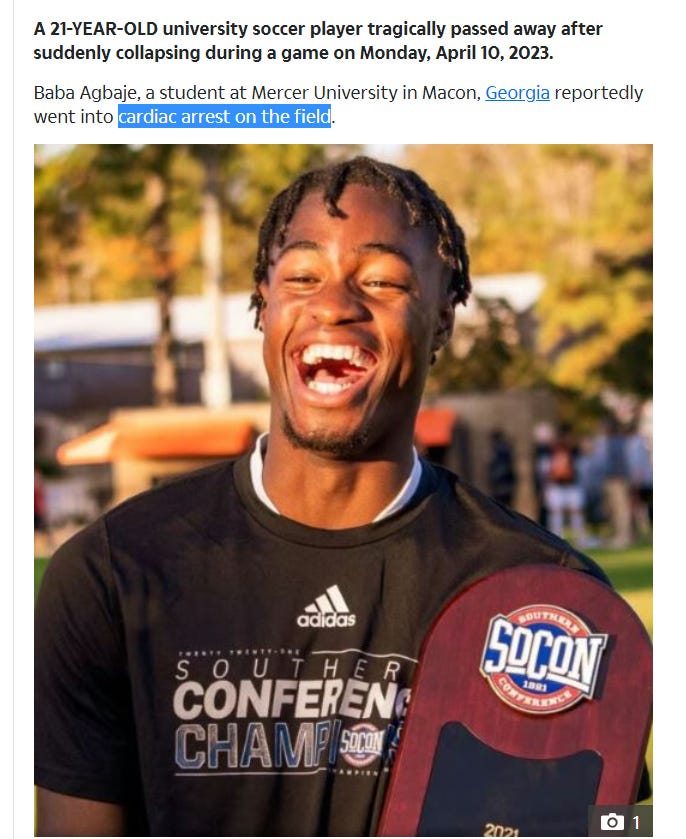 March 7, 2023 – 29 year old Siphamandla 'Spepe' Mtolo, a professional soccer player in South Africa, died suddenly during morning training. (click here)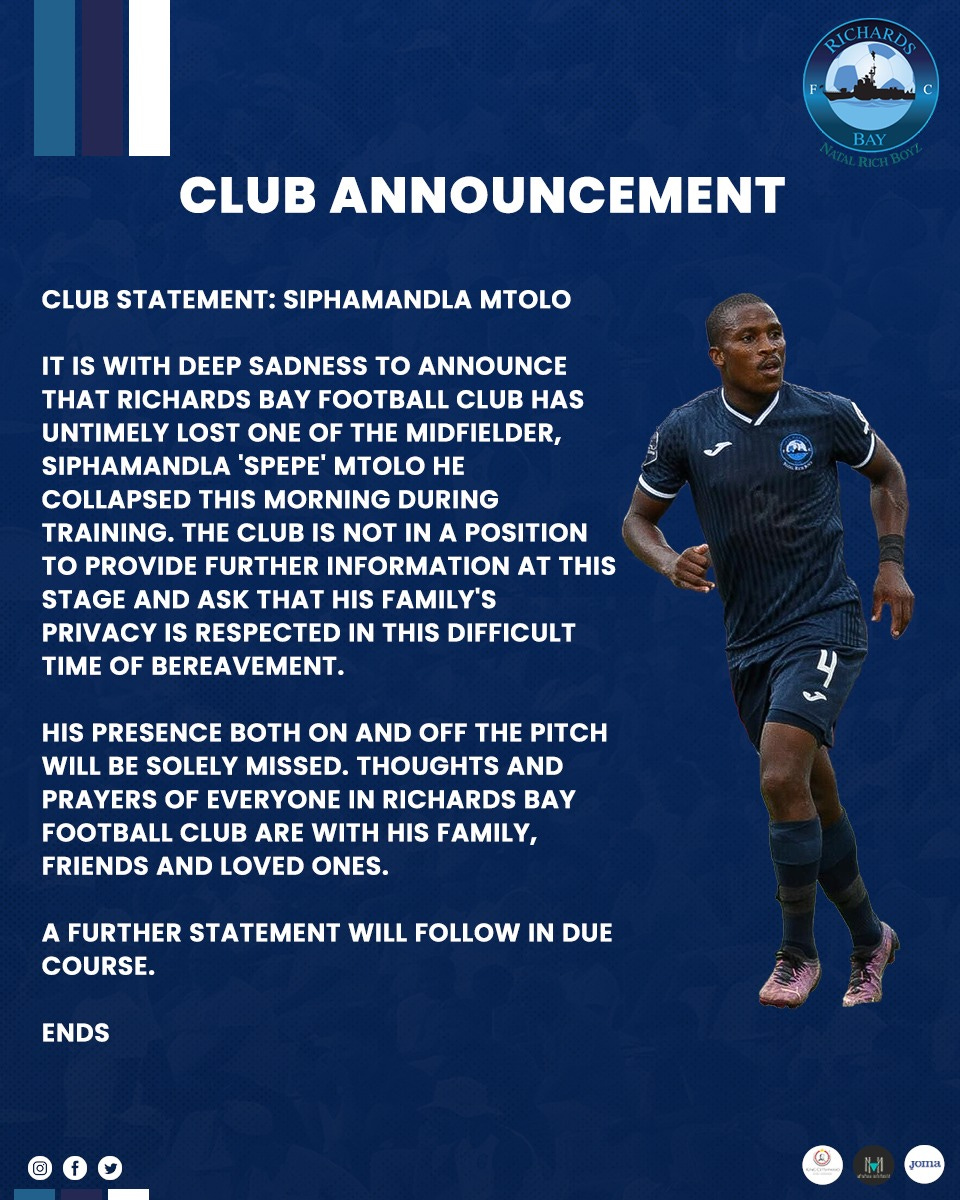 March 5, 2023 – 21 year old Moustapha Sylla, soccer player in Ivory Coast, died after collapsing on the field during a league game with cardiac arrest (click here).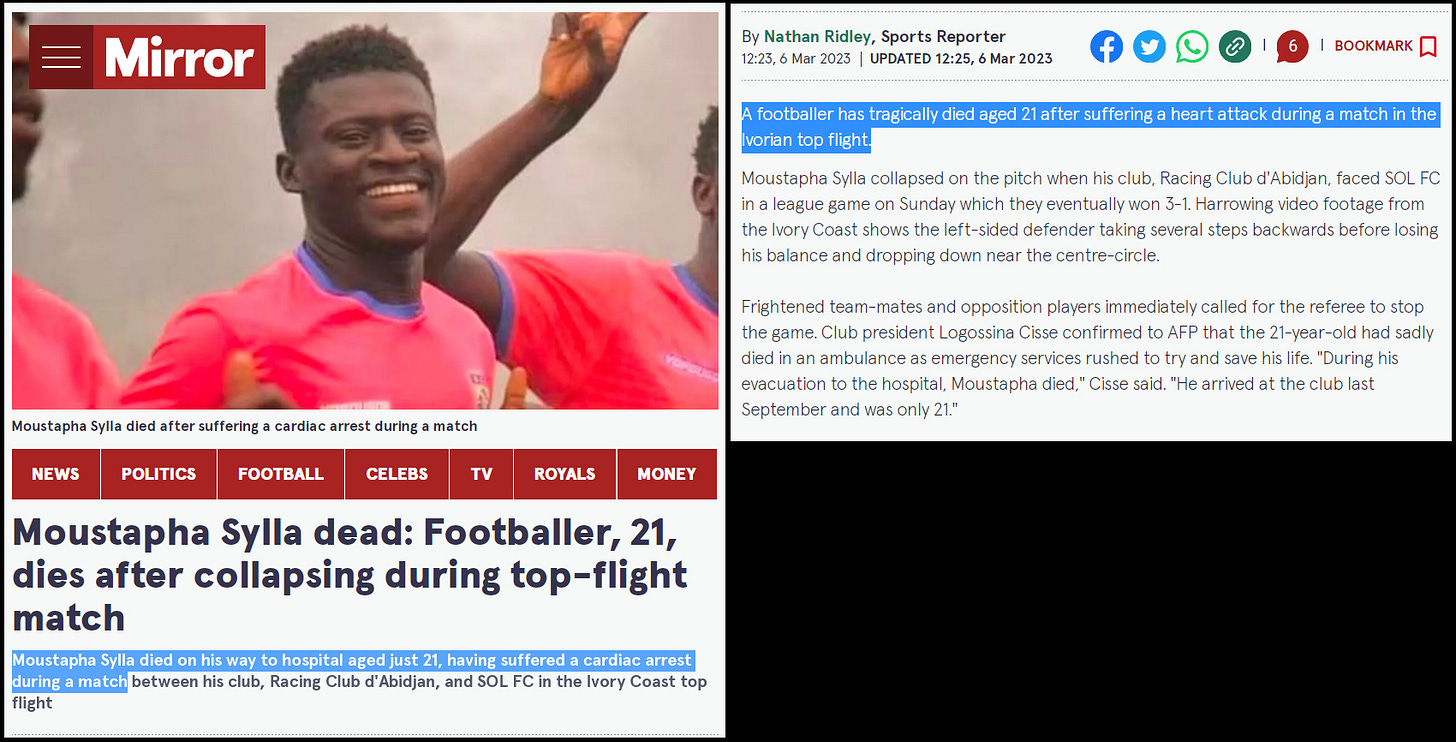 Feb. 11, 2023 – 25 year old Arne Espeel, Belgian goalkeeper, died after collapsing while playing for an amateur team. He had saved a penalty and moments later he fell to the ground. He died in the hospital (click here).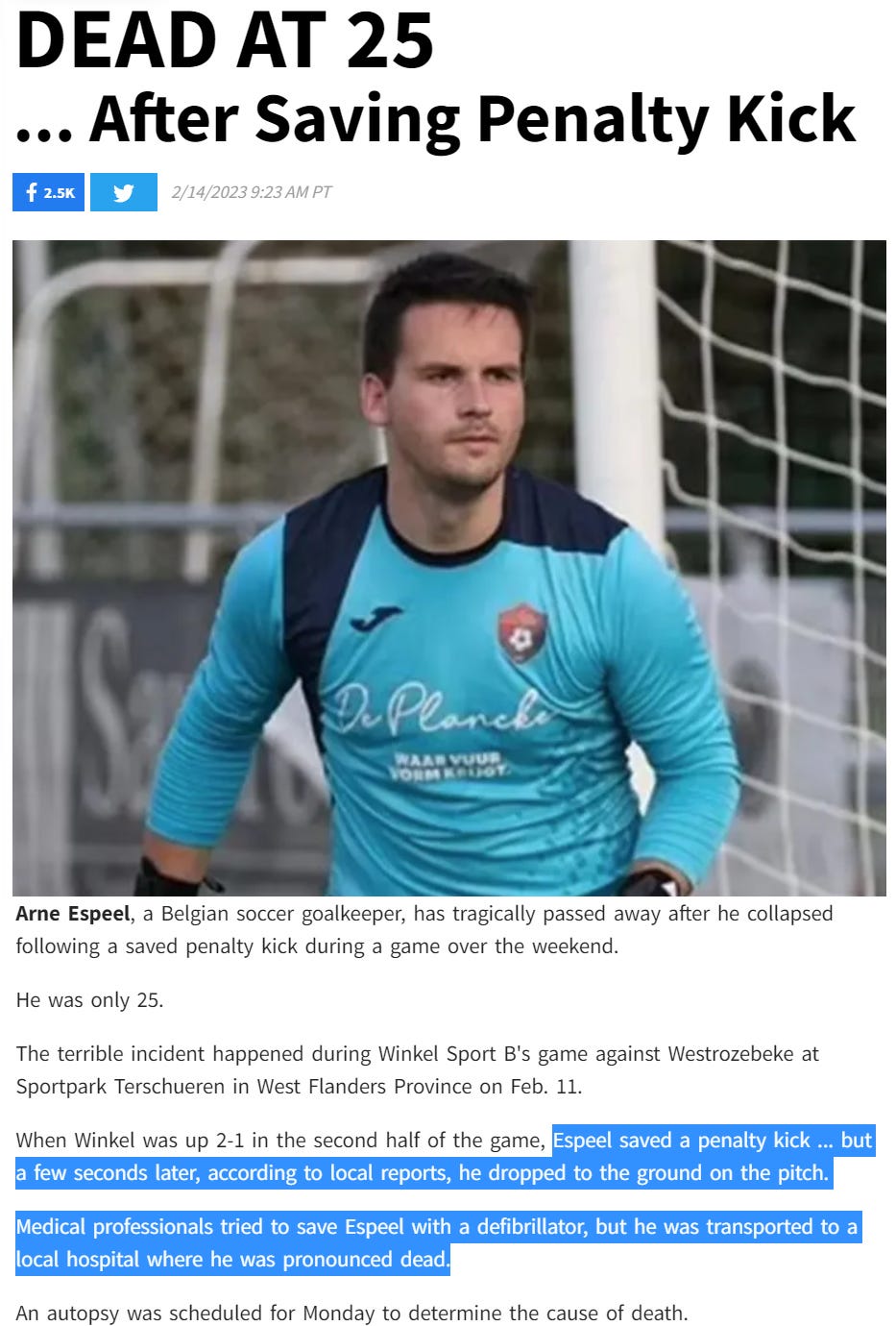 Jan. 6, 2023 – 58 year old Gianluca Vialli died suddenly following battle with pancreatic cancer.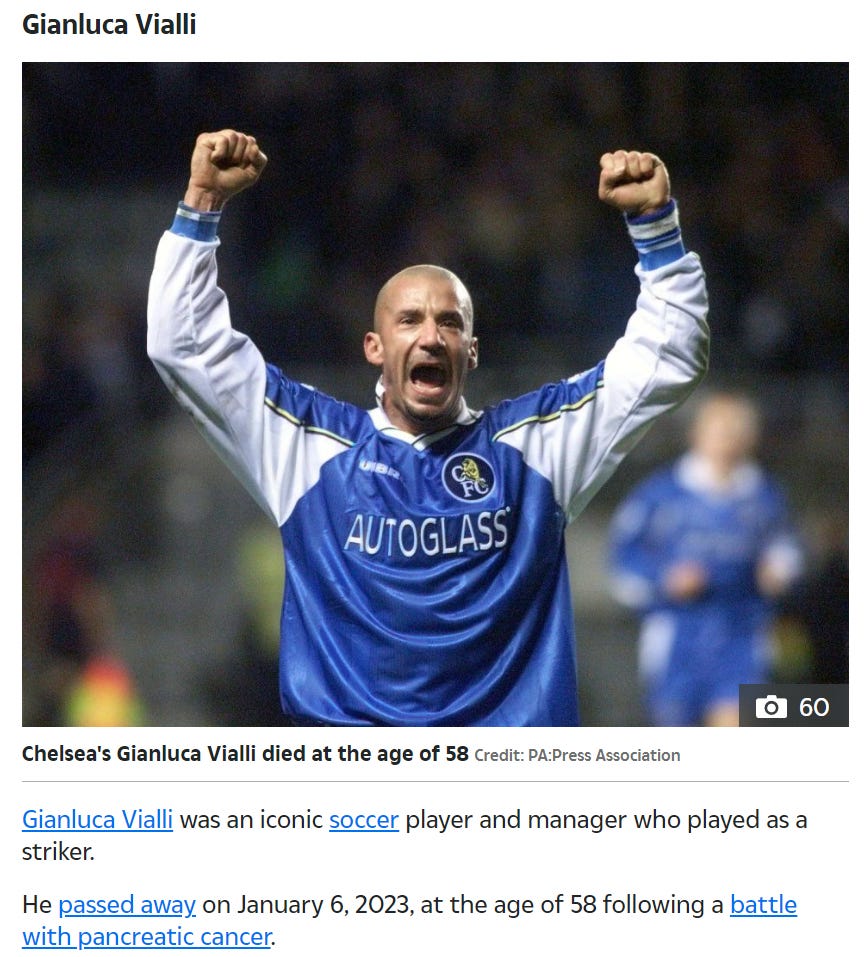 ---
Original Articles:

https://www.globalresearch.ca/musicians-singers-dying-suddenly-may-june-2023-trend-accelerating/5824205
https://www.globalresearch.ca/14-professional-soccer-players-died-suddenly-past-6-months-5-dead-month-june-2023/5824481