Multiple Heart Attacks or Multiple Strokes In COVID-19 Vaccinated Individuals • Vaccine Genocide

Global Research  |  Dr. William Makis
I have not seen any doctor or scientist discussing the phenomenon of multiple heart attacks or multiple strokes in COVID-19 vaccinated individuals.
Seven heart attacks, nine strokes, this is not normal. These strange events are occurring in young people and often in rapid succession. Sometimes fatal.
The nature of these events suggests a mechanism of injury that may be unique to COVID-19 vaccines and as such should be investigated by cardiologists.
COVID-19 vaccine induced myocarditis that leads to cardiac arrests and COVID-19 vaccine induced blood clots that lead to heart attacks or strokes, behave differently than other causes.
How do we prevent these incidents, how do we treat them? No one knows because doctors are too afraid to lose their medical licenses to even begin asking the questions.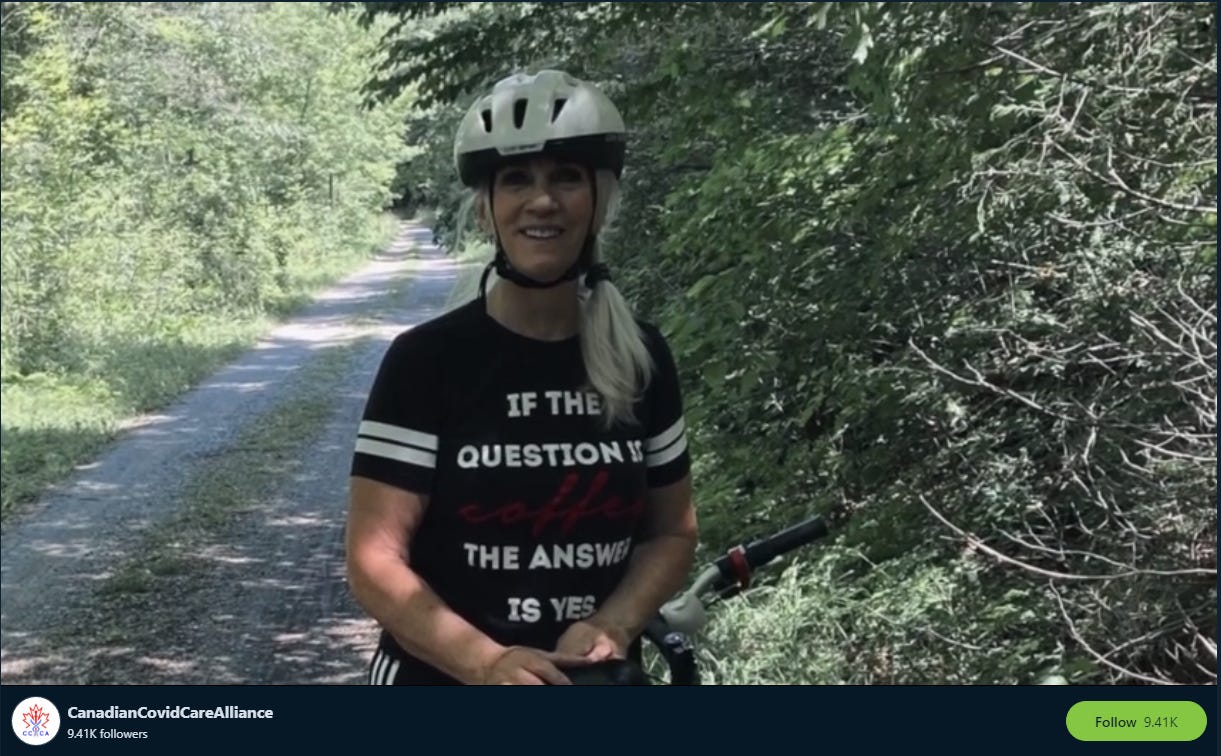 Kelly Sue – A Canadian woman who used to walk 10 miles a day and ride her bike 24 miles every 2 days had 9 strokes after her 2nd COVID-19 vaccine dose.
Kelly Sue had her 2nd COVID-19 vaccine on June 12, 2021. Three and a half weeks later she had back-to-back strokes. From July to early November 2021, she had 9 TIAs (mini-strokes) and strokes. She spent 31 days in the hospital.
She had blindness in her eyes, couldn't use her mouth, couldn't talk, would wake up and didn't know who she was or where she was.
Tallahassee, FL – 35 year old Maxwell Arline died suddenly of a 2nd heart attack after surviving 1st one a few days earlier, died on April 28, 2023 (click here)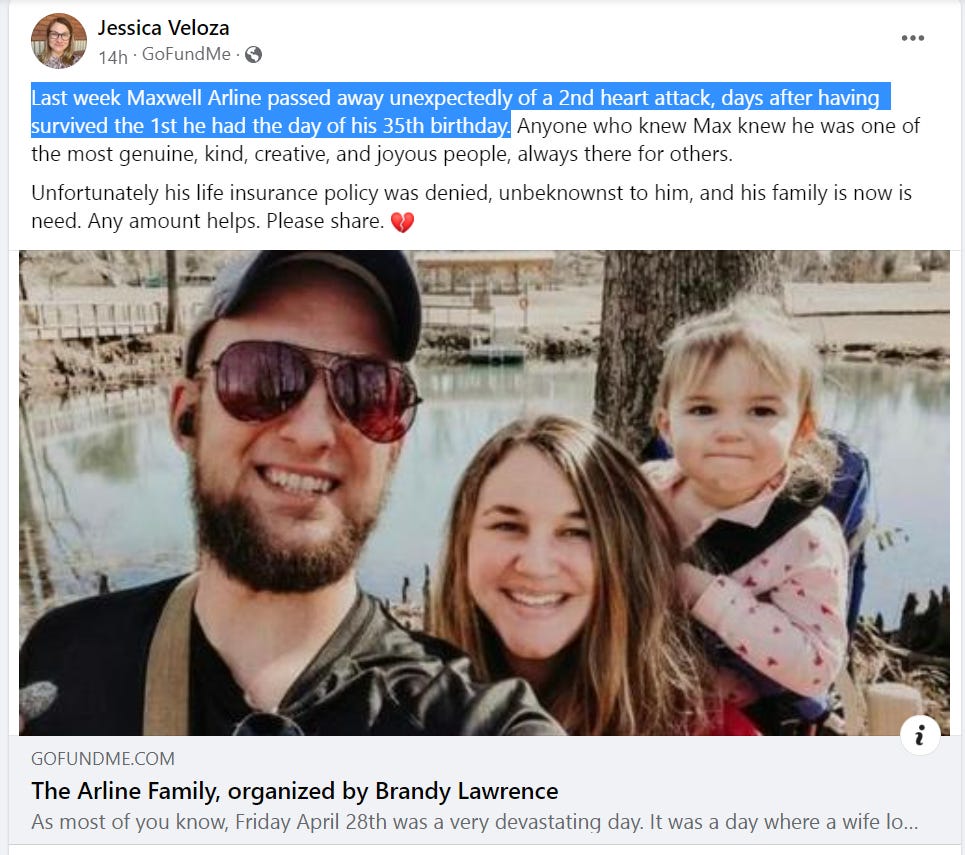 Penedo, Brazil – 42 yo Brazilian soccer player Marcus Vieira Ferreira (Marcos Bala) died after suffering three cardiac arrests taking a walk on Mar. 28, 2023 (click here)
16 year old Justus Danielli collapsed at calculus exam on Mar. 23, 2023, was shocked back to life with defibrillator 5 times (had 5 cardiac arrests) (click here).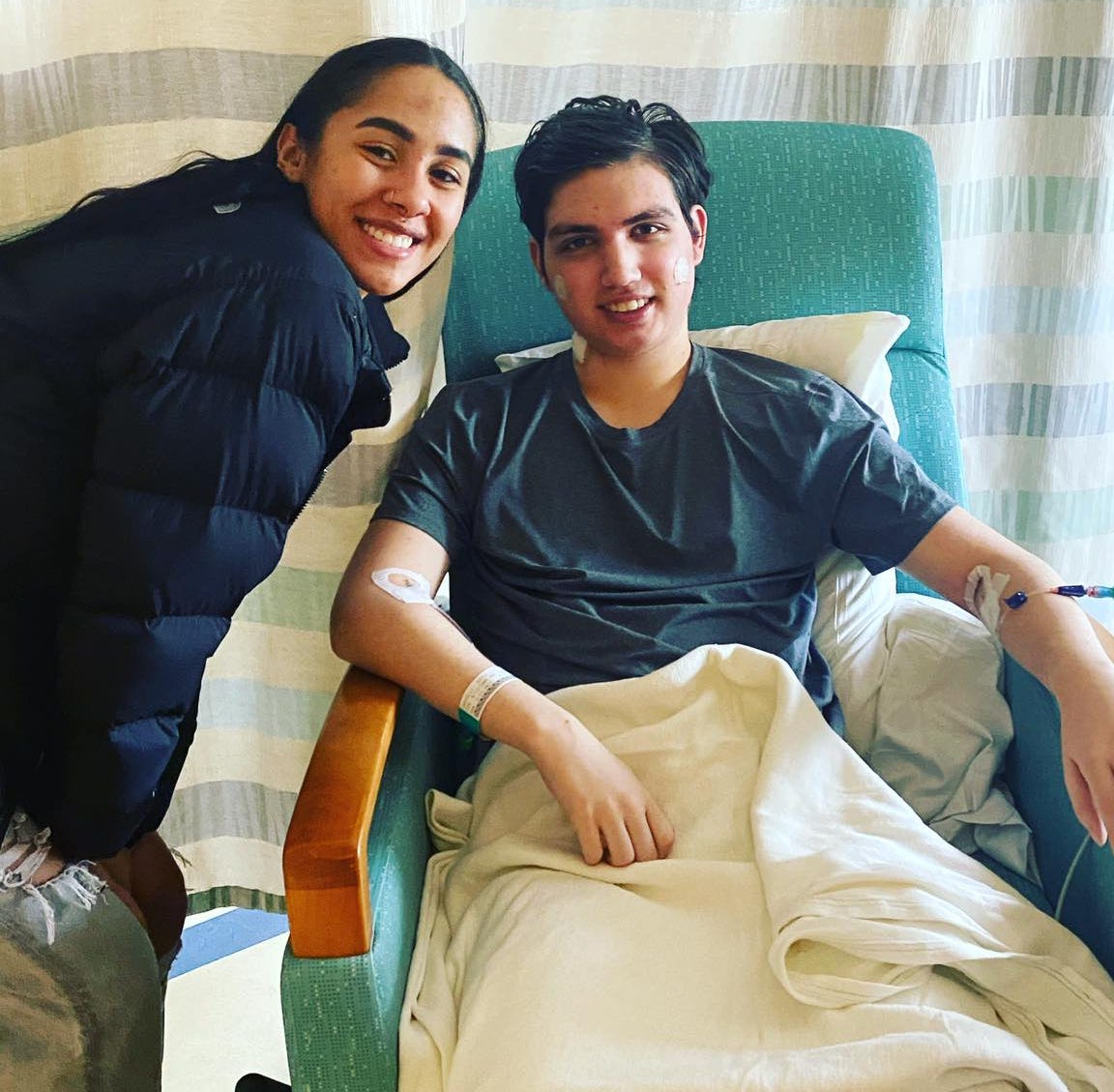 Lexington, SC – Mari Murton collapsed, lost consciousness and ended up in ICU after each COVID-19 vaccine injection, was diagnosed with Sudden Cardiac Arrest Dissection (Feb. 20, 2023).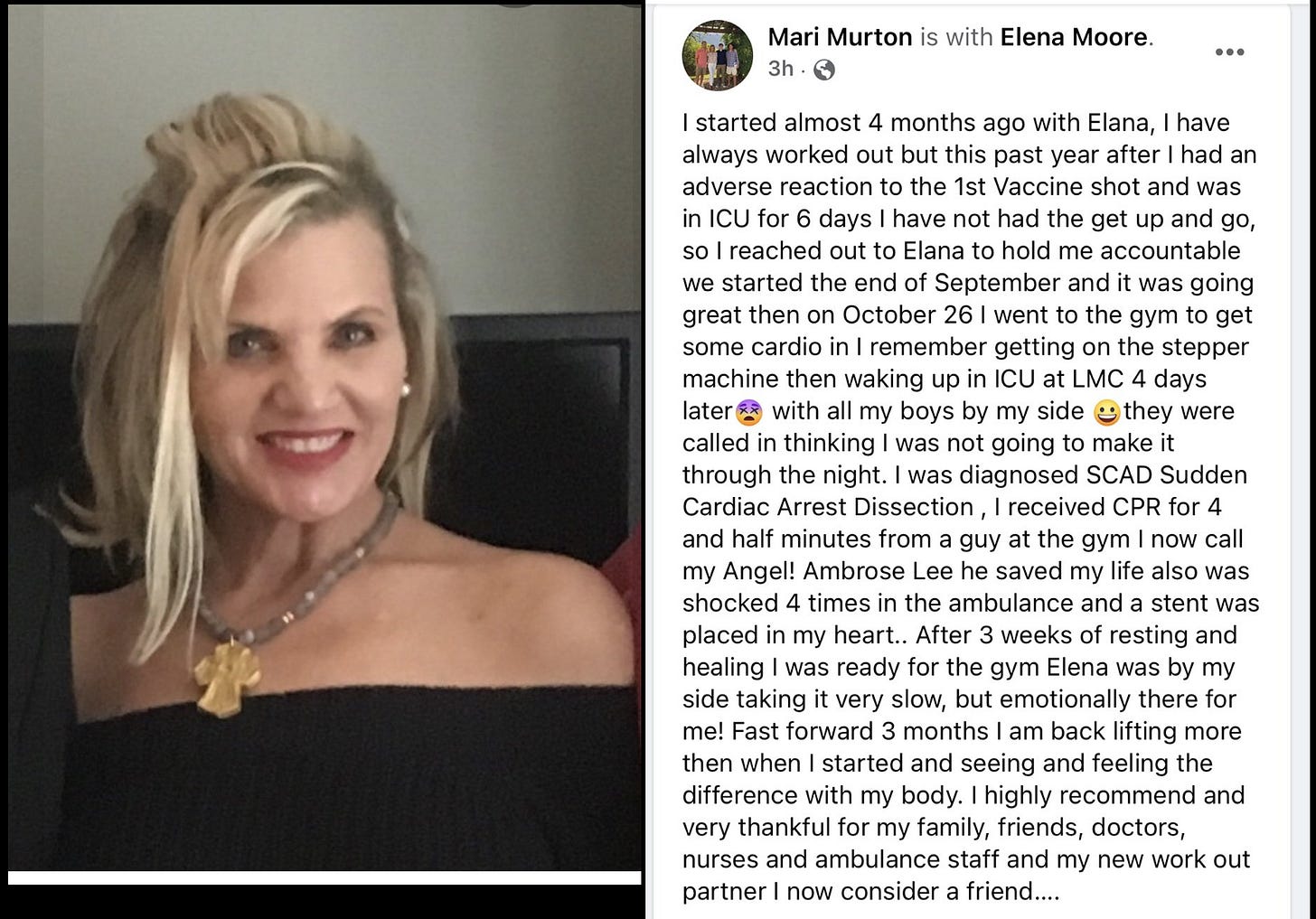 Ukraine – 28 year old professional soccer player Oleh Danchenko suffered a cardiac arrest and his heart stopped 3 times during training in Turkey (Feb. 16, 2023) (click here).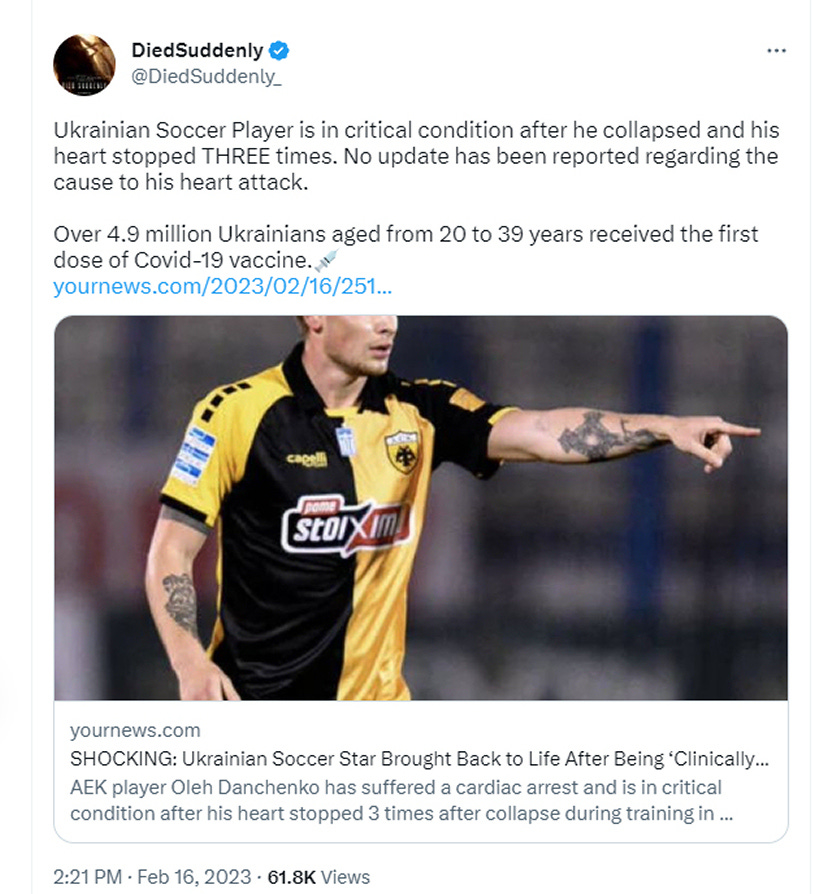 Eglinton, UK – 22 year old Aoife Boyle collapsed during a lunch with friends at a pub and needed her heart restarted 7 times in 11 days (Feb. 2023).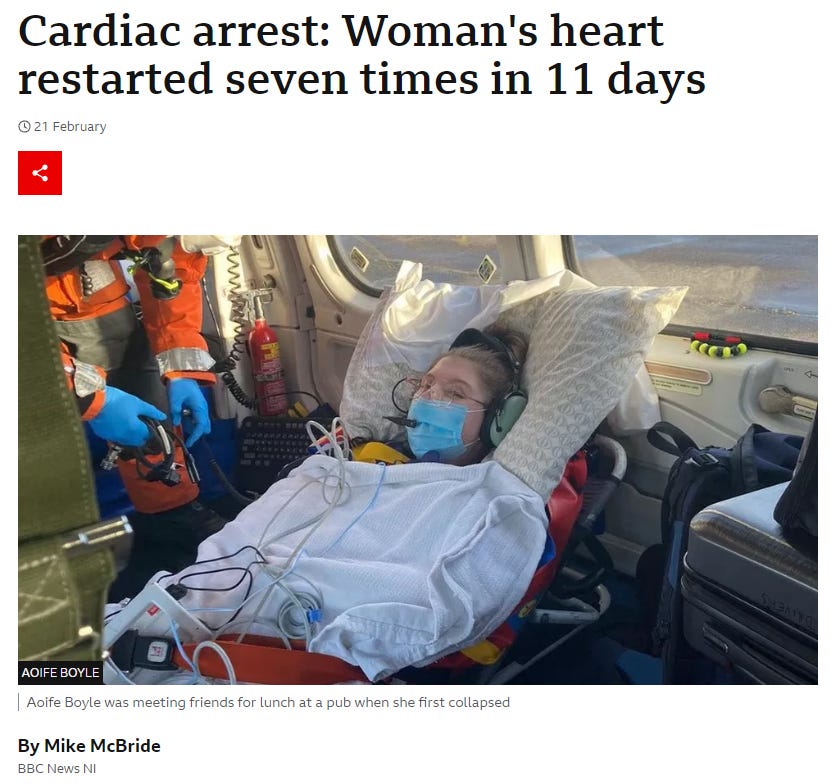 Brazilian reporter, Rafael Silva, age 36, collapsed live on air and had 5 cardiac arrests on the way to the hospital (Jan. 3, 2022). He had his COVID-19 booster shot one week prior on Dec. 28, 2021 (click here).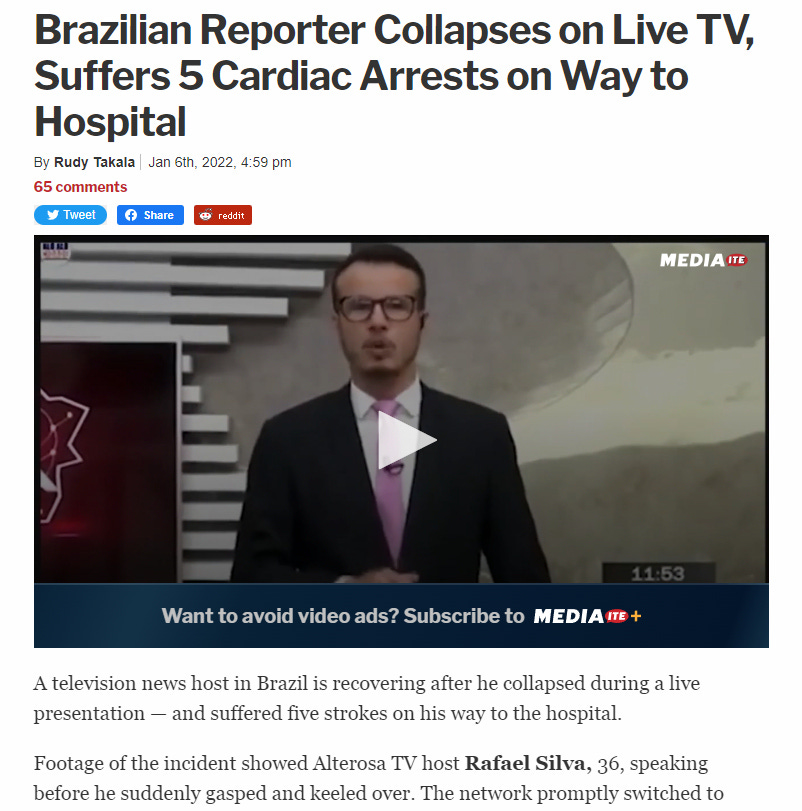 Melbourne, Australia – 38 year old Australian woman, Rupika Chopra had 7 heart attacks, doctors consider it a miracle she is alive (Dec. 2022).
Bengali actress Aindrila Sharma, age 24, died after suffering multiple cardiac arrests on Nov. 20, 2022.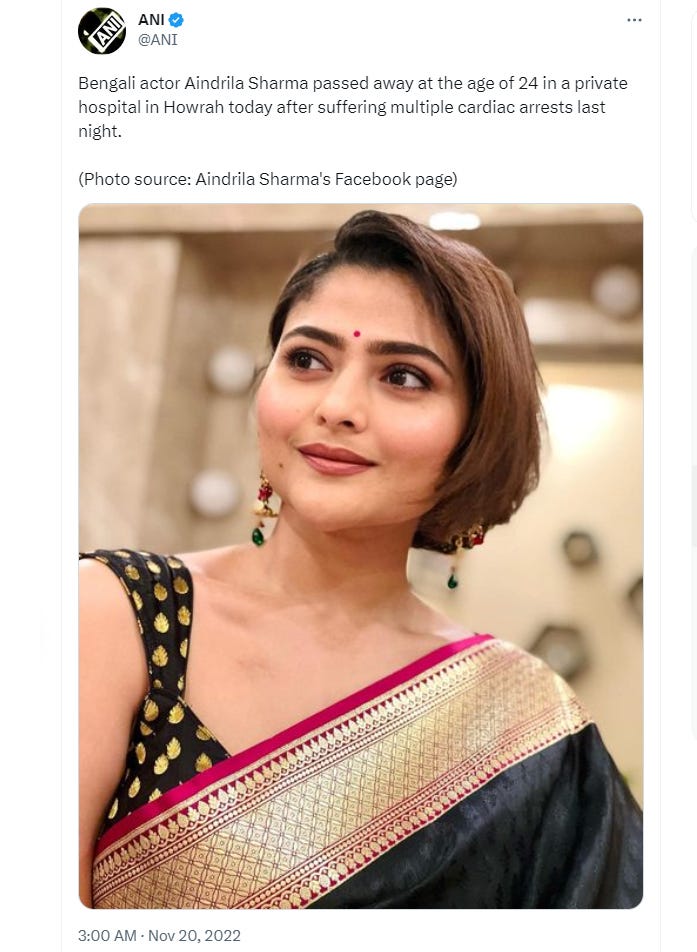 ---

Original Article: https://www.globalresearch.ca/covid-19-vaccine-injuries-multiple-heart-attacks-multiple-strokes/5820153