Mass Casualty at Concerts • When COVID-19 Vaccinated Crowds "Die Suddenly"

Global Research  |  Dr. William Makis

Why are some concerts now turning into "mass casualty events"?
The Ed Sheeran concert having two cardiac arrests is unusual enough, but 17 people had to be hospitalized and that is very strange. 37 incidents requiring "emergency services".
The 159 deaths during the 2022 South Korea Halloween party is the most striking example of this phenomenon, as it was reported that dozens of people were having cardiac arrests simultaneously.
The Travis Scott concert is legendary for simultaneous sudden cardiac arrests and 10 deaths.
In my opinion, this phenomenon is similar to what has happened at some marathons, like the May 21, 2022 Brooklyn Half Marathon where 1 runner died and 15 had to be hospitalized.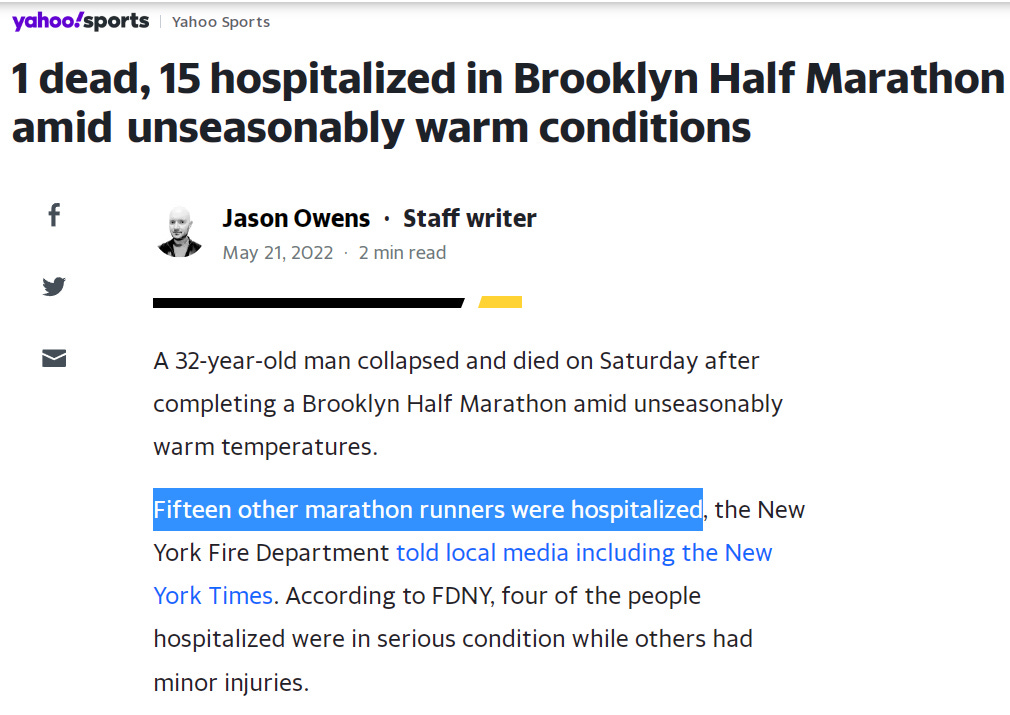 With concerts you have a venue of mostly COVID-19 vaccinated individuals (in some of the cases below, only the vaccinated were allowed to attend the concert).
Most of these concert goers are in an excited state, with increased heart rate and surging adrenaline.
That surging adrenaline is the catalyst that turns a COVID-19 vaccine induced myocarditis injured heart into having a sudden cardiac arrhythmia that leads to collapse and sudden death.
Sadly, COVID-19 vaccinated concert goers are probably not aware of this risk.
---
This has now happened several times since COVID-19 vaccines have rolled out.
Simultaneous cardiac arrests. Dozens hospitalized or dead.
---
July 8, 2023 – Ed Sheeran concert in Pittsburgh – 2 people went into cardiac arrest, 17 people were taken to the hospital (click here)
Ed Sheeran took to the stage at the city's Acrisure Stadium on Saturday, July 8, to entertain the biggest Pittsburgh crowd he's ever played in front of, with an estimated 51,000 fans piling in to see the Englishman.
Things took a turn among some gig-goers, though, who fell ill during the performance. Emergency services were called to more than 37 incidents, and 17 people were taken to hospital, including a stadium worker and a medic.
Two people went into cardiac arrest, including a venue worker as well as a paramedic.
Oct. 29, 2022 – Seoul, South Korea – Halloween party results in 159 deaths from simultaneous cardiac arrests (click here)(click here)(click here).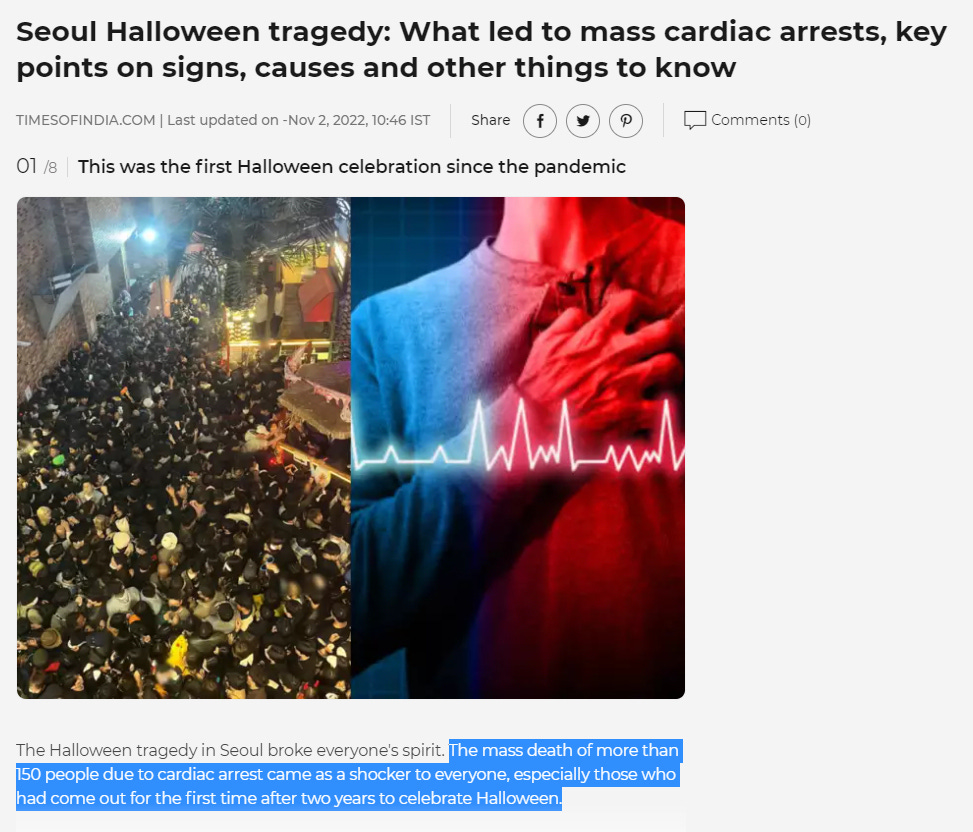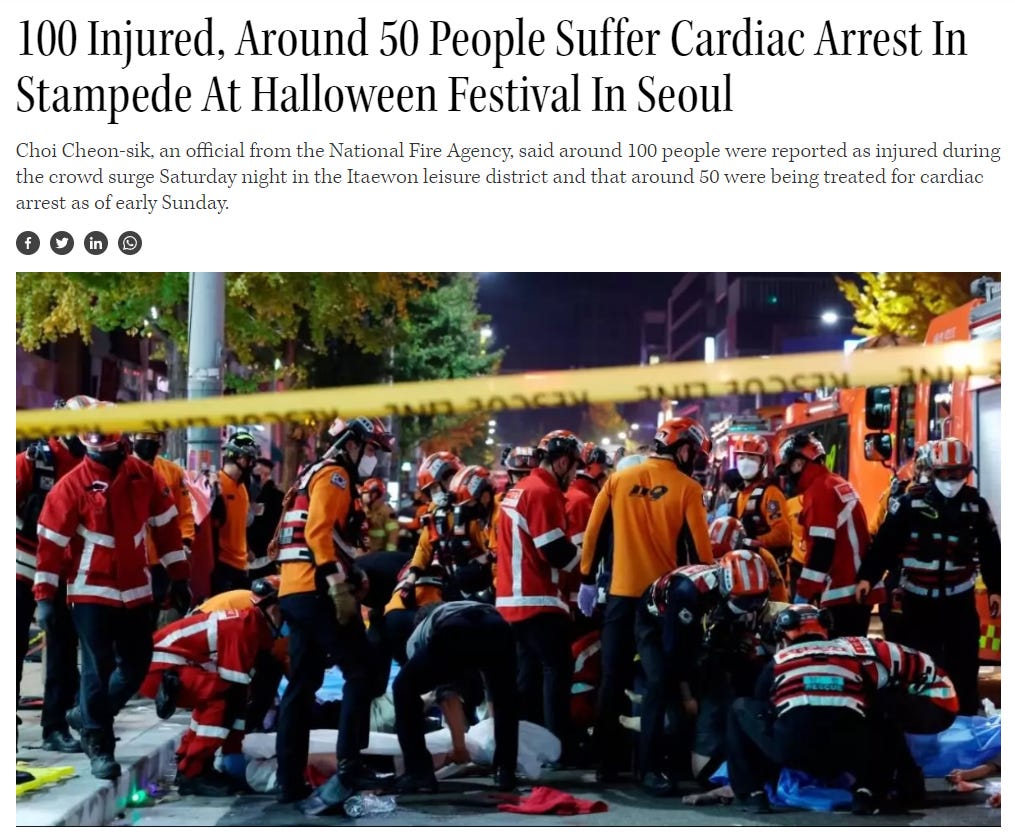 Oct. 30, 2022 – Kinshasa, Congo – Stampede at Fally Ipupa concert kills 11 people including two police officers (click here)(click here).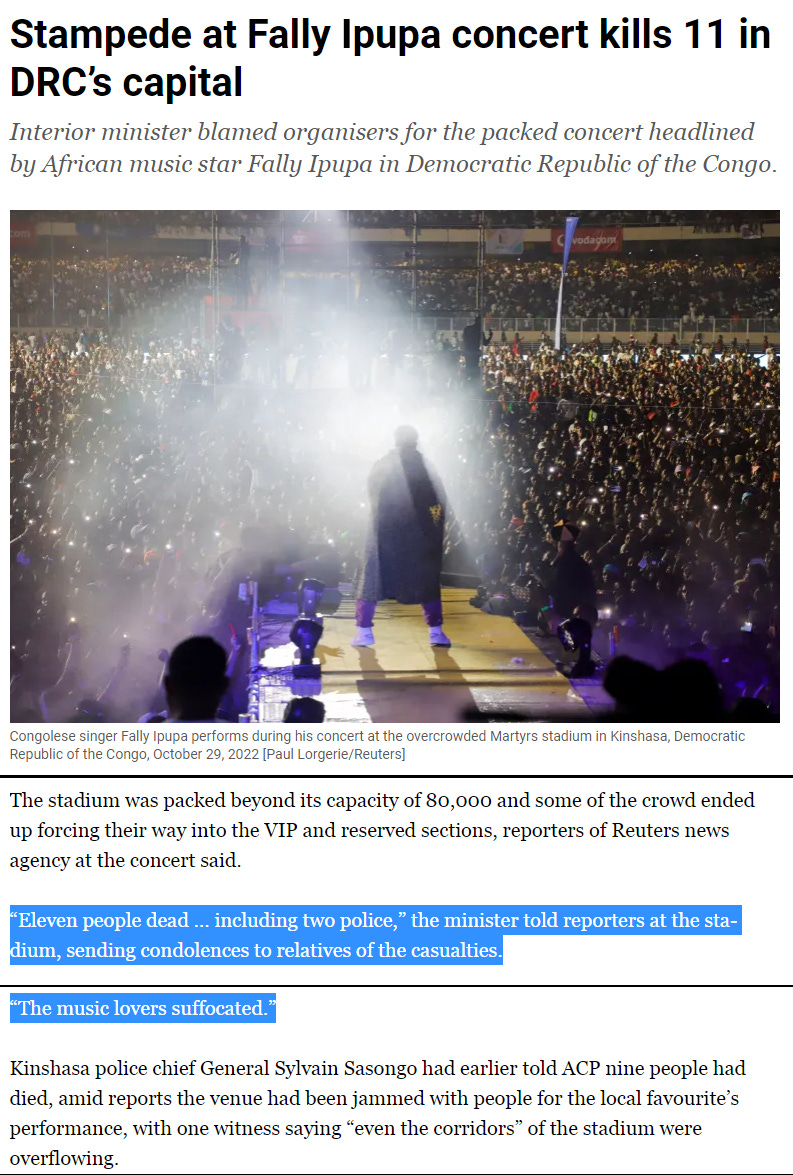 Sep. 15, 2022 – Guatemala concert to celebrate Independence Day had a stampede that left at least 9 dead and 20 injured (click here).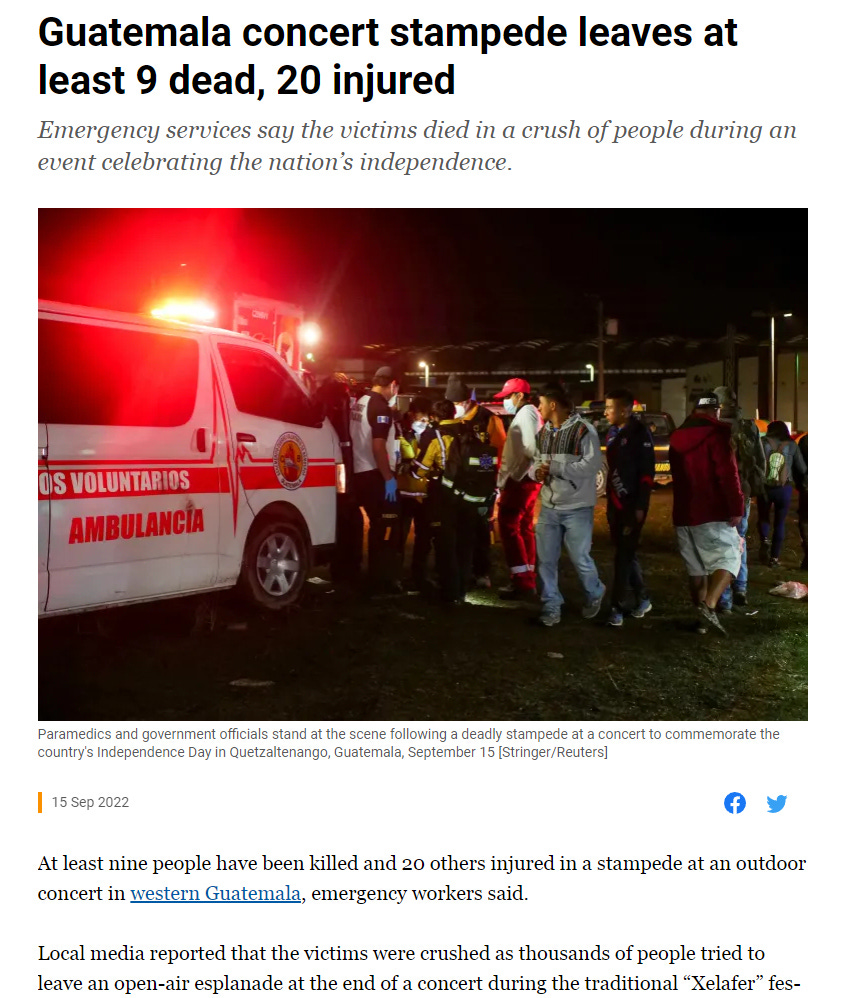 Nov. 6, 2021 – Houston, TX – Astroworld Festival, Travis Scott Concert – 11 people suffered cardiac arrests simultaneously, 10 people died (ages 14 to 26), 300 were injured, 25 transported to the hospital (click here)(click here).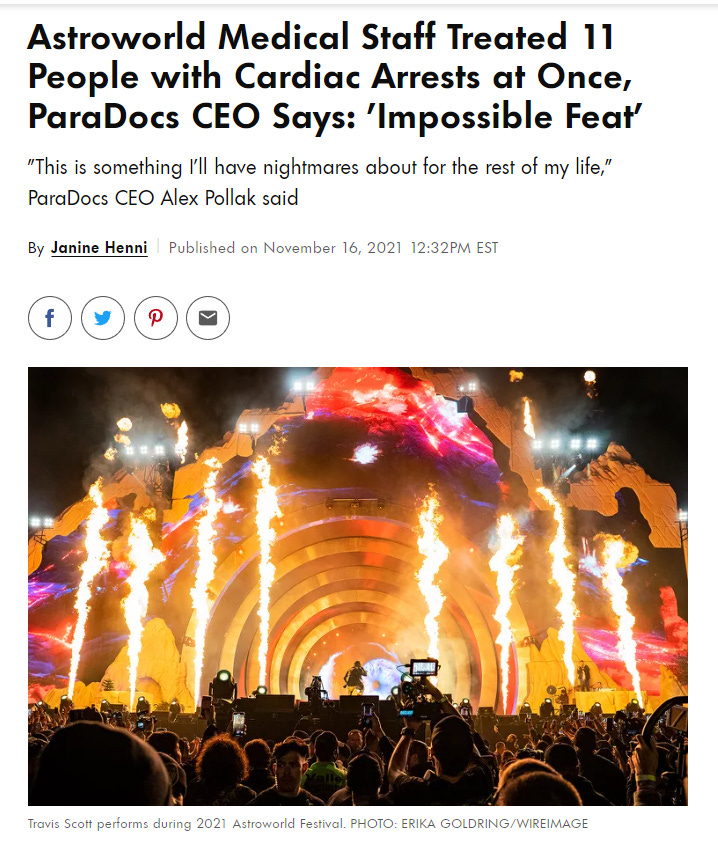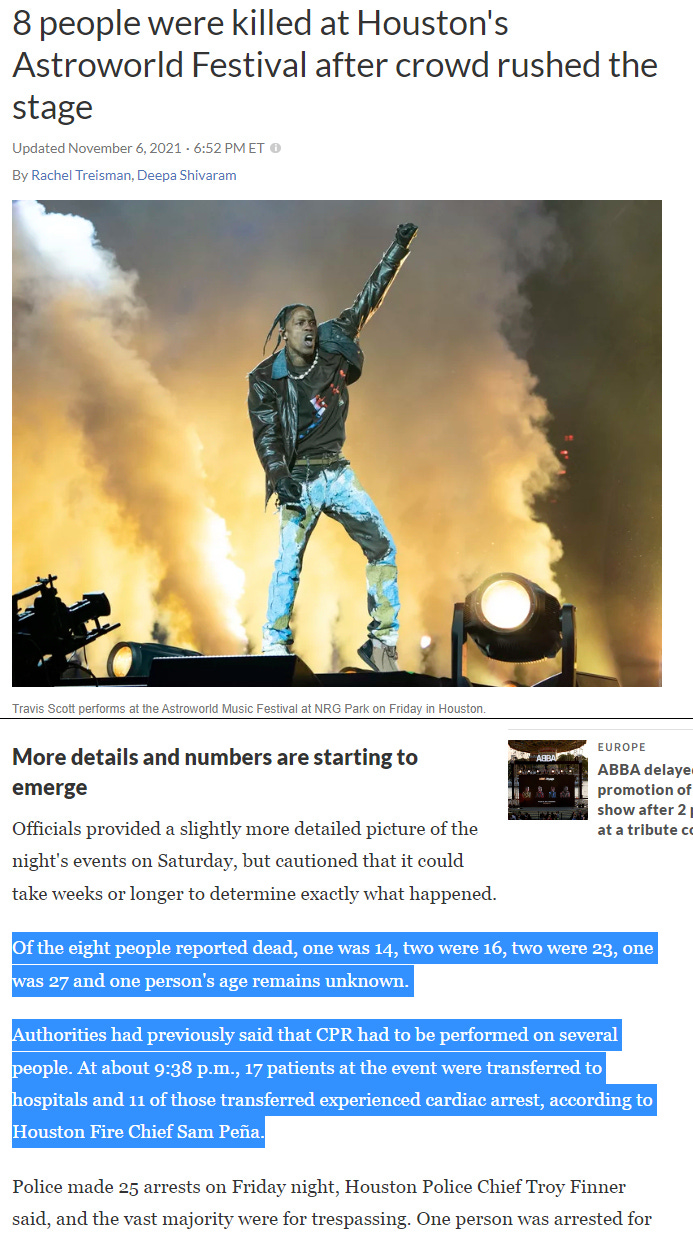 Concerts with smaller numbers of casualties:
July 4, 2023 – International Musical Eisteddfod concert goer had a cardiac arrest and was saved by a paramedic who got a defibrillator from a nearby rugby club (click here)
March 2023 – Carnegie Hall concert goer suffered a cardiac arrest and was saved by a doctor who was sitting next to him (click here).
---
Image: Source

Original Article: https://www.globalresearch.ca/mass-casualty-concerts-when-covid-19-vaccinated-crowds-die-suddenly/5825532
---
Dylan Eleven | Truth11.com
Another factor that should be considered is 5G and other wireless radiation at these events, interacting with graphene oxide in each of the vaccinated concert goers.  
Thousands of people, each with a phone, plus one or multiple vaccine introduced bluetooth signals beaming from them, cell towers and the venues wireless radiation sources, all adds up to an environment with massive amounts of wireless radiation.
When graphene oxide interacts with wireless radiation this happens: