France Bans Short-Haul Domestic Flights To Reduce Its Carbon Footprint • What A Farce
Dylan Eleven • Truth11.com
When you know the truth about subjects that they think you believe a lie about, its nakedly exposes their lies for the complete farce they are.
Restricting air travel for free energy high bypass turbofan engine jets that do not actually run on jet fuel, will not reduce any carbon footprint, because there is no fuel used to save.  
This has nothing to do with saving the planet.  It is a step in controlling and restricting travel for the masses.
This article explains the truth about jet fuel.  It is not what powers planes.  
Therefore banning flights is not actually about saving fuel.  
It is about controlling travel, and it's just the beginning.
---
France Bans Short-Haul Domestic Flights Despite Widespread Criticism

ZeroHedge News  |  Tyler Durden

Thomas Brooke | Remix News
Travelers will now be forced to use rail alternatives as France seeks to reduce its carbon footprint...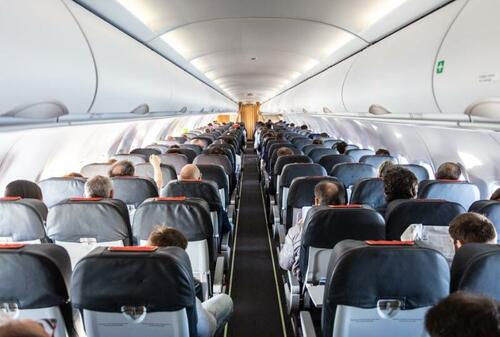 France's ban on short-haul domestic flights when there is a viable train alternative came into effect on Tuesday, as the French government seeks to reduce the country's carbon emissions.
The law had been in the works for over two years following the passing of a 2021 climate law which had initially moved to prohibit any domestic flight under four hours when passengers could instead take the train.
However, several reviews of the legislation following widespread criticism reduced this to a duration of two and a half hours.
The move will directly affect three major air routes from Paris to Lyon, Nantes, and Bordeaux.
Laurent Donceel, interim head of industry group Airlines for Europe (A4E), told AFP that governments should support "real and significant solutions" to airline emissions, rather than "symbolic bans."
Other critics claimed the legislation falls foul of EU competition laws, a point reviewed by the European Commission in December last year. The EU executive gave the green light for the radical climate laws on the proviso that "the negative impacts on European citizens and connectivity of any restriction of traffic rights is offset by the availability of affordable, convenient and more sustainable alternative transport modes."
Following the go-ahead from Brussels, France's Transport Minister Clément Beaune called the move a "major step forward," adding: "I am proud that France is a pioneer in this area."
The move comes as the French government continues to debate how to reduce its carbon footprint, and this week, the country's richest were targeted in a proposed one-off green tax to help France succeed in its environmental transition.
The proposal was put to the French Prime Minister Élisabeth Borne via a report authored by Jean Pisani-Ferry, a chief economic adviser of Emmanuel Macron back in 2017.
It called for France to reclaim €150 billion from the country's richest 10 percent in the form of a green wealth tax in order to meet its net zero obligations by 2050, justifying the move with the fact that rich people typically have a larger carbon footprint.
Finance Minister Bruno Le Maire publicly dismissed the proposal on Tuesday, however much of the cabinet remained tight-lipped, including the prime minister herself.
---
Original Article: https://www.zerohedge.com/political/france-bans-short-haul-domestic-flights-despite-widespread-criticism